politics
Paul, Cruz, Rubio to Appear Together at Koch Summit
The quasi-debate illustrates how the Koch network has moved beyond being simply one part of the so-called money primary.
By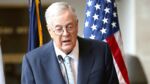 Call it the first debate of the 2016 Republican presidential primary contest.
On Sunday, Senators Rand Paul, Marco Rubio, and Ted Cruz will appear together at a donor summit for the Koch political network in Palm Springs, Calif. Jonathan Karl, ABC's chief White House correspondent, will moderate the panel—the capstone to a weekend-long private event for 450 strategists and deep-pocketed business leaders.
The quasi-debate, which will showcase the trio's positions on issues including energy and health care, illustrates how the Koch network has moved beyond being simply one part of the so-called money primary. Charles and David Koch, energy executives who are the planet's fifth and sixth wealthiest people, according to the Bloomberg Billionaires Index, have been personally courted by Republican politicians for several election cycles now. Both men will be in attendance Sunday.
Through Freedom Partners Chamber of Commerce, a business league that serves as the central hub of the Kochs' network, the Kochs are able to raise huge sums from wealthy donors and distribute the money to an array of politically active nonprofits they favor. There are about 200 members of the business league, and each pays annual dues of at least $100,000
"Our members care deeply about the future of our nation, and we're honored to host some of today's most influential and respected leaders in shaping public policy," said James Davis, spokesman for Freedom Partners. "We hope that this panel will give each participant the opportunity to lay out their vision of free markets and the role of government. Our goal in 2015 is to help inform the national debate around key domestic economic issues, and this forum is the beginning of that conversation."
Reporters are barred from attending the summit, at a resort in Palm Springs, but a livestream of the Rubio-Cruz-Paul panel will be made available.
As they worked to oust President Barack Obama in 2012, the nonprofits favored by the Kochs pumped $400 million into the election, according to a study by the Center for Responsive Politics and the Washington Post. 
Before it's here, it's on the Bloomberg Terminal.
LEARN MORE