DoubleLine Capital Starting Quantitative Commodities Fund
Mary Childs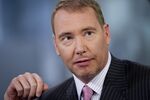 Jeffrey Gundlach's DoubleLine Capital is starting a fund focusing on strategies in commodities.
Jeffrey Sherman, a DoubleLine manager who focuses on investments tied to commodities, will run the DoubleLine Strategic Commodity Fund, according to a filing Thursday in Washington with the U.S. Securities and Exchange Commission. The fund will use indexes as well as individual commodities and derivatives, according to the filing.
DoubleLine, the Los Angeles-based firm that has grown to $64 billion in assets, is adding the fund to its lineup as a collapse in oil prices has boosted the appeal of gold amid the threat of deflation. The precious metal traded above $1,300 an ounce Wednesday for the first time since August, while oil is down more than 50 percent since June with U.S. supply surging.
Gundlach's firm has benefited from strong performance at its bond funds and from clients shifting assets from Pacific Investment Management Co. after the surprise September departure of Pimco's co-founder, Bill Gross. DoubleLine began in December 2009 after Gundlach was dismissed from TCW Group Inc. over a management dispute. The firm started with more than 40 people from TCW, including Sherman.
Sherman is also co-manager, with Gundlach, of the DoubleLine Shiller Enhanced CAPE fund, the firm's large-cap value strategy with Nobel laureate Robert Shiller. That fund had $262.1 million in assets as of Jan. 21, according to data compiled by Bloomberg.
Before it's here, it's on the Bloomberg Terminal.
LEARN MORE