Dijsselbloem Says the ECB Must Be Alert to the Risks of QE Plan
Corina Ruhe and Jonathan Ferro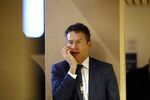 The European Central Bank must stay alert to the risks of quantitative easing, said Jeroen Dijsselbloem, head of the group of euro-area finance ministers.
"I think that we have to be aware and that the ECB has to be alert for the risks of any bubbles creation anywhere in the economy," Dijsselbloem, who is also Dutch finance minister, said in an interview Thursday on Bloomberg Television at the World Economic Forum annual meeting in Davos, Switzerland.
ECB President Mario Draghi pledged to buy government bonds in an asset-purchase program worth at least 1.1 trillion euros ($1.3 trillion) to counter the threat of a deflationary spiral. Draghi's quantitative-easing plan is set to last until at least the end of September 2016 in a push to put more cash into circulation and revive euro-area inflation.
"We want more risk-taking capital in our economy, we want new investments," Eurogroup chairman Dijsselbloem said. "So if that portfolio effect were to happen, within of course certain boundaries, that would be good."
The region's 19 national central banks were handed responsibility for 80 percent of the additional purchases and put on the hook for their own losses, a move intended to assuage critics.
Size, Timing
"It is up to them to decide on the program, the size of the program, the timing of the program," Dijsselbloem said. "I hope it will be effective and I always say that it doesn't take us off the hook. We still have to do our job, which is about dealing with competitiveness in Europe."
The ECB "decided to launch an expanded asset-program encompassing the existing purchase programs of ABS and covered bonds," Draghi told reporters in Frankfurt. "We see sustained adjustment in the path of inflation which is consistent with our aim of achieving inflation" rates close to but below 2 percent, he said.
Dijsselbloem said the ECB should have the opportunity to use the tools at its disposal and "I don't believe it is very fruitful to have a debate about whether instruments are allowed." He said the program is "within the boundaries of the mandate of the ECB."
Before it's here, it's on the Bloomberg Terminal.
LEARN MORE