The Fury of the Chinese Cabbie
By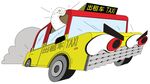 The city of Nanchang, site of the first major battle between Communist forces and the Kuomintang in 1927, has recently been in the news for a different kind of insurgent: the taxi driver. Underpaid and overworked, more than 500 of them went on strike on Jan. 13, attempting to drive in a convoy to the provincial government office before being stopped by police.
Nanchang is one of at least 10 municipalities hit by taxi strikes across China already this year. Drivers are angry about the monthly fee—as high as 5,000 yuan ($804)—they must pay to lease a cab. They put in 13-hour days. They have to compete with heiche or "black cars," unregistered vehicles that often use ride-hailing apps such as Uber or the Alibaba-backed Kuaidi. In some cases the cabbies have halted traffic by stopping their cars in the middle of the road and not budging. Sometimes they just stay home. The strikes have hit Changchun and Shenyang in the northeast, the coastal city of Ningbo, and Chengdu in the southwest. According to the state press, a massive protest in Nanjing, in Jiangsu province, turned violent when fights broke out between strikers and other drivers. On Jan. 12 the official China Daily urged the city's cabbies to keep picking up fares.
Government media have said the fees taxi drivers pay are too high, but at the same time police have done their best to break up the cabbies' demonstrations. In their intensity, high visibility, and persistence, the strikes offer the regime a new challenge. The protesters are relying on social media, including the short-message service WeChat and online bulletin boards, to organize. They're also getting encouragement from a handful of longtime drivers who've become full-time activists, says Wang Kan, a professor at the China Institute of Industrial Relations in Beijing. "This is a nationwide underground network of activist taxi drivers that is growing," he says. "And the new activist drivers know how to use technology, the media, and the public to support their claims."
Authorities remain especially leery of rights-conscious cabbies because of their prominent role in cities. "For factory strikes, no matter how big, the government can censor news and usually no one knows about it, because most are located outside of cities," says Wang, who has studied labor movements in China. "But with taxi strikes, everyone in the city feels it. Now with social media, they can tweet about them, and it has a snowball effect. This is bad for social stability, they think." The strikes could also provide inspiration for future protest movements by workers who want to organize large-scale, multicity demonstrations.
"Why are drivers striking? It's simple—because we can't make money," says a 33-year-old driver in Nanchang. Like most of the drivers interviewed, he asked that his name not be used, citing the government's sensitivity to labor activism. He works 13-hour days and earns from 3,000 yuan to 4,000 yuan ($483 to $644) a month. To support his wife and daughter, he often has to borrow money from his elderly parents, which makes him feel ashamed. "Striking is our only option. There is no other way for our voice to be heard," he says, adding that the official party-controlled drivers' union doesn't advocate for cabbies.
Strikes are not new to China. The Hong Kong-based China Labour Bulletin recorded 569 incidents—protests and strikes—by teachers, construction workers, miners, and factory workers in the last three months of 2014, up more than three times from the same period in 2013. "Strikes are happening across the board as just about every sector experiences the knock-on effect of the economic slowdown," says Geoffrey Crothall, communications director at the CLB.
Cabbies have struck plenty of times in the past, though never with the intensity and scale of January's actions. The biggest issue is the onerous rental fee they pay fleet owners. Most of the estimated 2 million registered drivers don't operate their own cabs, as they cannot get scarce, government-issued licenses. Those go to local companies, which enjoy a near-monopoly on the business and until now have been under no pressure to lower the fees. "I wake up every morning in debt," says Shanghai taxi driver Cao Zhizhou.
State media are now calling for a better deal for cabdrivers. "The current monopoly has long been criticized," the party's People's Daily said on Jan. 6. "The large amount of money that must be handed [by drivers] to taxi companies will have to be gradually reduced."
In China's heavily monitored capital, authorities have blocked strikes from happening, Crothall says. "Beijing has the big leaders," says one driver in the city. "They will see that we are arrested if we dare take any action. We face the same problems as drivers everywhere, but we can only swallow our anger."
The authorities are aware that heavy-handed tactics alone won't work. On Jan. 8, China's transport ministry announced a ban on privately owned cars operating without a taxi license that use the ride-hailing apps. A week later, the ministry said it planned to strengthen "rights protection" for cabbies and improve "pricing," presumably of the fees drivers pay cab owners. No details were provided. "The most important issues these days are apps, black cars, and monthly fees," says one Chengdu driver.
Opening the taxi market to all comers and expanding the number of licensed vehicles would bring down rental rates for cabbies and thus boost their incomes, says Chenli You, an expert on the Chinese taxi industry who's studying for a Ph.D. in economics at the University of Illinois at Chicago. Such a move would benefit municipalities as well. Beijing, for example, has 67,000 legal taxis today, a number that has changed little in two decades.
Such wholesale reform won't be easy, You says. "Once you have created these interest groups with monopoly powers, it is very hard to make them disappear."
—With Bloomberg News
The bottom line: Paying monthly car rental fees of 5,000 yuan, China's cabbies are lucky to take home 3,000 yuan to 4,000 yuan a month.
Before it's here, it's on the Bloomberg Terminal.
LEARN MORE