Is China Coming Down to Earth?
By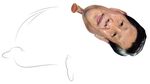 Few Chinese leaders are as revered as Deng Xiaoping. His late-1970s modernization drive led to an unrivaled run of high-speed growth. Chinese President Xi Jinping, who has big reform ambitions of his own, often evokes the memory of the paramount leader, who died in 1997. In 2012, shortly before he assumed the top government job, Xi signaled his own liberalization agenda by retracing Deng's famous tour in 1992 of southern Guangdong province to promote economic reform. Last August, in a speech marking the 110th anniversary of the revolutionary leader's birth, Xi, like his predecessors, recycled Deng-era slogans such as "socialism with Chinese characteristics."
Deng's legacy as the architect of Chinese modernity rides on a record of 10 percent average annual growth from 1980 through 2012. Xi oversees an economy that's decelerating and that grew 7.4 percent in 2014, the weakest performance since 1990, when it grew 3.8 percent. The International Monetary Fund predicts that Chinese expansion will steadily decline to 6.8 percent this year and 6.3 percent in 2016, when archrival India is expected to eclipse China at 6.5 percent. All of which raises a question unthinkable a few years ago: Is the China growth miracle winding down for good?
China's transformation from an agrarian backwater to a $9.2 trillion economy with globally competitive companies, including Xiaomi, Huawei, Baosteel, and Alibaba, has been remarkable. And plenty of countries would be thrilled with 6 percent growth. Yet China is also home to income inequality on par with that of Nigeria and Mexico, a rapidly aging populace, and a world-class environmental crisis. Years of politically driven investment with diminishing returns have led to too much debt and industrial overcapacity, as well as ghost cities with unfinished hotels and absurd ambitions. (You can soon visit Tianjin's replica of Manhattan, provided you like your replica cities free of actual humans.) Loose credit conditions contributed to an unsustainable six-month, 63 percent stock price increase, prompting regulatory authorities on Jan. 19 to order the nation's three biggest brokerages to stop adding new margin-trading accounts. The Shanghai Composite index tumbled 7.7 percent on Jan. 19, the biggest one-day drop since the financial crisis in 2008.
China's investment spending binge is packing less of a punch than it used to, according to the World Bank. From 1991 to 2011, it took $3.60 of investment to generate $1 of GDP growth. At the end of 2012 it required $5.40. Meanwhile, the country's total debt—government, corporate, and household—is now roughly $18 trillion, or about 200 percent of total gross domestic product. "We've got the biggest debt bubble that the world has ever seen, and credit is continuing to grow [about] twice as fast" as the Chinese economy, says credit analyst Charlene Chu, a partner with Autonomous Research Asia in Hong Kong. Chinese officialdom is keenly aware of the problem. The growth model that delivered productivity spurts in the late 1990s—powered by reforms of state-owned enterprises and new technology brought in by foreign investors after the country's admission into the World Trade Organization in the early 2000s—has lost its edge. As early as 2007, China's then-Premier Wen Jiabao described his economy to the National People's Congress as "unstable, unbalanced, uncoordinated, and unsustainable."
Michael Pettis, a finance professor at the Guanghua School of Management at Peking University, says the Chinese experience has much in common with Brazil in the 1960s, the Soviet Union in the 1970s, and Japan in the 1980s. All resorted to what economists call the financial repression of households to accelerate development. Family savings were channeled primarily into bank accounts with regulated and below-market deposit rates. Banks then recycled the capital into low-interest loans for businesses to build factories at home and to export abroad.
When it works, and it did stupendously for China, the economy hits the fast lane and incomes grow so fast that consumers don't mind getting low returns on their savings—or being ruled by an unaccountable one-party state. Unfortunately, research by Pettis shows, "every investment-led growth miracle in the last 100 years has broken down."
Xi and Premier Li Keqiang are trying to avoid that fate by guiding China onto a more sustainable path that would bolster the role of consumer spending (about 34 percent of GDP, vs. 68 percent in the U.S. in 2013, the World Bank reports) and shift the economy to a more services-oriented model. They say they've mapped out more than 300 reforms that over time will reduce state intervention in the economy and energy price controls that favor manufacturers; the changes will also improve the social safety net and encourage market-driven deposit rates to get Chinese families saving less and spending more.
There has been some progress: Most interest rates, except for the benchmark deposit rate, have been liberalized, and capital requirements for new companies were just loosened. Xi's drive to root out government corruption continues to roll ahead with recent investigations of former security chief Zhou Yongkang and Ling Jihua, a former top aide to retired President Hu Jintao. "An arrow that has been released makes no turning back," Xi said in his New Year's address to the country.
Even as the limitations of investment-led growth become obvious, the beneficiaries of the spending spree stand in the way of Xi's vision of a rebalanced China. It will be tough to win over state-owned enterprises that account for 30 percent of China's economy and 42 percent of industrial output, according to the World Bank, and local governments that have benefited from big public works projects and thriving property markets.
More difficult still is winding down the torrent of government investment—43 percent of China's GDP since 2000—without cratering the economy and worsening the situation for indebted local governments or the bad-debt burden of Chinese banks. Very few countries with the scale of China's credit boom "have not gone into some form of banking crisis," says Mark Williams, chief Asia economist at Capital Economics in London. That said, China's $3.9 trillion foreign exchange stockpile and current-account surplus give it the resources to bail out the country's banks and local governments if need be.
A bigger risk is a disorderly deleveraging that takes growth rates well below the 7 percent or so the government hopes to achieve as it tries to reshape the economy. At 6 percent levels, Williams says, unemployment might start to tick up. There are signs the government is concerned; in late November, China's central bank, the People's Bank of China, cut its benchmark one-year loan rate by 0.4 percentage points, to 5.6 percent, making it easier for businesses to borrow.
"If you say that China's growth should be led by services and consumption, nobody will challenge you," says Tao Dong, a regional economist with Credit Suisse in Hong Kong. China, however, is still accelerating 300 infrastructure projects valued at 7 trillion yuan ($1.127 trillion) this year. When growth falters, "the government usually falls back to the old path," he says.
The longer China's credit binge and super-elevated investment carry on, the greater the risk of a wrenching and sharp downturn. At some point the country's ability to both roll over existing debt and fund new projects will wane. If China can wean itself off its debt-fueled growth, shift away from an excessively industrial growth model, and shore up its social safety net, it could still realize its goal of becoming an advanced economy with higher income levels. Taiwan, a much smaller economy, rebalanced in the mid-1980s with household income as a percentage of GDP rising from 47 percent in 1986 to about 60 percent now.
As impressive as China's rise has been, history has shown that all growth miracles come to an end at some point. Harvard economists Lant Pritchett and Larry Summers, in a research paper last fall, crunched historical data from around the world and found that countries with long periods of elevated growth eventually converge with the long-term global average of about 2 percent. Call it the reversion-to-the-mean argument. "Why will growth slow?" they wrote. "Mainly, because that is what rapid growth does."
—With Bloomberg News
Before it's here, it's on the Bloomberg Terminal.
LEARN MORE