Capital One Pair Accused of Trading on What's in Your Wallet
Sophia Pearson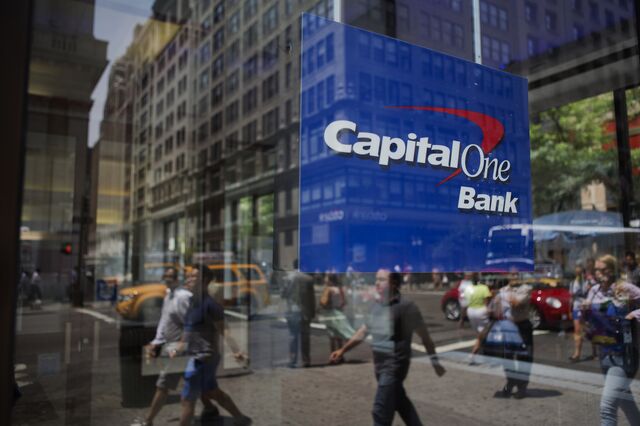 Capital One Financial Corp.'s "What's in your wallet?" slogan took on new meaning for two former employees accused of using customer credit-card data to trade on stocks in three companies, according to U.S. regulators.
Bonan Huang, 32, of Glen Allen, Virginia, and Nan Huang, 36 of Richmond, Virginia, used their employer's nonpublic database of sales information to determine revenue trends for retailers and make trades based on those assessments, the Securities and Exchange Commission said in a lawsuit filed Wednesday in Philadelphia federal court.
The agency didn't identify Capital One or the target companies in its complaint. Capital One confirmed that the accused both worked there. The two were fired Jan. 16, according to the complaint.
"We've been working closely with the SEC on this investigation, which involves two former employees," Tatiana Stead, a spokeswoman for the McLean, Virginia-based bank, said in a phone interview.
For three years beginning January 2012, the men made about $2.8 million on a $147,300 investment, a return of about 1,800 percent, trading in six online accounts, according to the complaint. The SEC is seeking disgorgement of the trading profits and a civil penalty of as much as three times those profits.
Neither man could be immediately located for comment. The SEC won a temporary court order Wednesday freezing their assets after Bonan Huang attempted to withdraw $250,000 from one of the trading accounts.
'Creative' Scheme
The scheme was "creative in that they were gathering information that gave them an indication of where the company was going," said Peter Henning, a law professor at Wayne State University in Detroit and a former SEC attorney, who has seen the complaint.
"It's interesting because it shows how many different sources of information there are that affect the market and creative because I wouldn't have thought to do this," Henning said. "This worked pretty well for them. They were making a lot of money."
The men worked as senior data analysts in the credit-card company's fraud department and were responsible for investigating possible fraud against the company and the retailers who were paid through its network. The men allegedly opened six trading accounts with OptionsHouse beginning in December 2011.
170 Companies
In November 2013 they began conducting "hundreds, if not thousands" of key word searches'' on the bank's database for credit card sales data of at least 170 publicly traded consumer retail companies owed payments by Capital One's customers, according to the complaint. The searches were done for periods covering days or months, allowing the men to view and analyze aggregated sales data for a specific company over a defined time period, the SEC said.
The two saved the sales data for specific companies on Capital One's computers, designating the information by the target's ticker symbol. The men would trade on information gleaned from the data using call and put options, according to the complaint. They did not make identical trades in the retail companies but their trades were often similar, according to the complaint.
"This case shows that greed will betray you," Henning said, suggesting that the SEC was tipped off to the case by the size and frequency of the trades. "If they kept it small and kept it infrequent, I don't think they would have come to the SEC's attention."
Buying Options
The complaint describes trades made in Company A, a consumer retailer of outdoor sporting goods. That company announced Jan. 15, 2014, that it would publicly release fourth-quarter and fiscal-year 2013 financial results before the stock market opened on Feb. 13.
Nan Huang conducted a search for credit card sales linked to Company A on Feb. 7 and Feb. 8. On Feb. 12, a day before the public earnings release, he purchased 170 contracts of put options on Company A's stock with strike prices ranging from $65 to $70 and expiration dates of Feb. 22, for $51,890. Purchasing the options meant Huang would profit from a decrease in the company's stock price by Feb. 22.
When Company A announced a 10 percent decrease in sales on Feb. 13, its stock fell 8 percent to $64.26. Nan Huang sold his options for $107,950 and made 108 percent on his one-day investment, according to the complaint. Company A is described in exhibits as using the registered trademark "the World's Foremost Outfitter," a trademark that belongs to Cabela's Inc.
Coach Ticker
The men made similar trades in April in Company B, a consumer retail company that sells women's and men's fashion accessories. That company trades Hong Kong depositary receipts under the symbol 6388, a ticker symbol used by Coach Inc. unit.
In June 2014, the men traded in Company C, described as a consumer retail company that sells "fast-casual" food, making more than $377,000 in one day, according to the complaint. In exhibits, Company C is described as operating six ShopHouse Southeast Asian Kitchen restaurants, Chipotle Mexican Grill Inc.'s smaller chain which opened in 2011.
The case is SEC v. Huang, 15-cv-00269, U.S. District Court, Eastern District of Pennsylvania (Philadelphia)
Before it's here, it's on the Bloomberg Terminal.
LEARN MORE