What You'll Be Wearing Next Fall: 7 Trends From Milan Fashion Week
Style points to take stock of now
By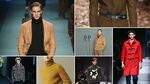 So that happened. And no, I'm not referring to that gender-confusing Gucci collection, the first post-Frida Giannini. (Or am I? It was actually pretty beautiful.) I meant, Milan Fashion Week is a wrap. But before I catch this flight to Paris to discover the French capital's fashion offerings, here's a list of which Italian trends are worth taking home with us (in addition to that bag of cannoli I plan to polish off before the Valentino show, oops).
And guys, follow us on our new Twitter handle @luxury—like these styling lessons and fall wardrobe suggestions, you'll be right on trend.
Sartorial Casual

Effortless cool,  comfort chic—it all means the same thing: Dress down to dress up. Look good, but be comfortable. This reimagined formality, which is anchored by lived-in, inventive layering, was seen at shows from Bottega Veneta to Canali and Salvatore Ferragamo. To create the look, start with a fine-gauge turtleneck, gray flannel trousers, and a killer piece of outerwear (like a fitted shearling bomber or oversize double-breasted coat).  
Belts

You've been warned, fellas: Cinched waists are not just for the ladies anymore. Designers highlighted slimmed-down silhouettes (and torsos) with belts on everything from herringbone topcoats, sporty trenches, and even shortened-up double-breasted wool blends.  
Brown

Browns were paired with black, blue, and every color in between—and often shown layered on top of each other in varying shades and textures. Think nutty colors, like chestnut, or with tinges of red in a rusty hue. 
 Statement Sweaters

Graphic knits are an easy way to make a subtle-yet-strong statement. Neil Barrett, who is famous for his lightning bolt and color-block knits and shirts, introduced a shooting-star graphic this season, while Dolce & Gabbana screen-printed family portraits, creating a strong emotional statement.
Covered Necks 

We noticed a … well, trend in many of the trends: no neck cleavage. Whether by a chunky turtleneck or oversize cashmere scarf, ascots, and even those ruffled, high-neck blouses at Gucci and Marc Jacobs, covering below your chin will certainly be a common (even popular) way of accessorizing come fall. 
Wide-Wale Cords

The least formal (and also softest) player in the corduroy family is back in a big way. This is actually great. The thicker-ridged cord is also the easiest way to show texture when playing with those additional layers next season, especially when they're monochromatic.
 Primary Colors 

Sure, there were shades of gray and jewel tones aplenty in Milan, but there were also pops of color from bright mustard yellow to royal blue and traffic light red (as in Michael Bastian's case). Good news: All of them go good with gray—so basically the entire Calvin Klein collection.
Nic Screws is the style director at Bloomberg and has been reporting from Europe's menswear shows all month. Follow her on Instagram and Twitter and Bloomberg Pursuits on its new Twitter handle, @luxury.
Before it's here, it's on the Bloomberg Terminal.
LEARN MORE