Verizon's Tab in Airwave Auction Makes Asset Sales More Urgent
Scott Moritz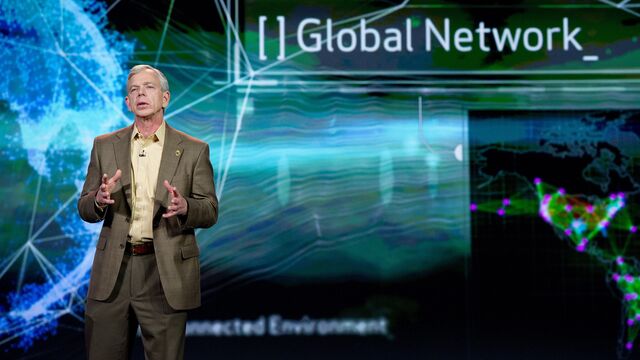 Verizon Communications Inc. will likely top bidders in a U.S. government airwave auction, and the hefty price tag to satiate data-hungry users is driving the company to raise cash by selling assets.
Financing that bid, which New Street Research estimates to be as high as $20 billion, will add to Verizon's $107.6 billion in long-term debt, the most among U.S. non-financial companies, according to data compiled by Bloomberg. While debt has been Verizon's primary fundraising means, it is also working to sell assets including about 12,000 wireless towers and some landlines.
To win the radio spectrum, Verizon will have to outbid 69 rivals including AT&T Inc. and Dish Network Corp. The record-high bidding underscores the urgency among carriers to add network capacity. While Verizon has held onto its market share, cheaper rates offered by Sprint Corp. and T-Mobile US Inc. are a threat. To stave off an exodus, Verizon is offering faster connections and bigger data plans so users can stream more music or watch new seasons of hit TV shows on their devices.
"There is no better use of capital for Verizon than spectrum right now," said Jonathan Chaplin, an analyst with New Street Research, who rates Verizon shares neutral. "All of their value is in wireless. Spectrum is the lifeblood of the wireless business."
The Federal Communications Commission auction, the largest in U.S. history with $44.8 billion worth of bids already tallied, is expected to be complete in the coming weeks with payments due soon after. The total is almost triple initial estimates of about $15 billion.
Verizon is scheduled to report fourth-quarter earnings on Thursday, and its spending versus financing priorities are likely to be discussed on a conference call with investors. Bob Varettoni, a Verizon spokesman, declined to comment.
Landline Assets
Verizon, based in New York, has looked at selling some landline operations in states outside the Northeast region such as Florida, California and Texas. Chief Executive Officer Lowell McAdam told investors at a Jan. 6 conference there is logic to selling parts of the landline business.
"There are certain assets on the wireline side that we think would be better off in somebody else's hands, so we can focus our energy in a little bit more narrow geography," McAdam said.
As the largest U.S. wireless carrier, Verizon has been racing to widen network capability ahead of demand at a time when mobile-data usage is expected to increase 10-fold between 2013 and 2019. Yet, the financial strain to keep expanding that capacity is exacerbated with profit under pressure from competitors' price cuts and data promotions.
Margin Pressure
Verizon's own promotions and deep discounts on phones to lure customers caused it to miss third-quarter earnings estimates by 1 cent. Last month, the company warned that wireless margins will be hurt in the fourth quarter without giving a specific forecast. The margin for wireless earnings before interest, tax, depreciation and amortization was 49.5 percent in the third quarter, and 47 percent at the end of 2013.
"Investors have concerns over big claims on cash flows amid a hyper-competitive industry price war," said Todd Lowenstein, a fund manager in Montecito, California, with HighMark Capital Management Inc., which oversees about $16 billion in assets, including Verizon shares.
"Verizon's margin of safety isn't what it used to be, so they need to be highly disciplined and make sure the return economics work in this new environment," Lowenstein said.
Sprint skipped the auction because of its relative abundance of airwaves. The Overland Park, Kansas-based company has 31 percent of the industry's network capacity and only 16 percent of sales. Verizon is almost the reverse, with 38 percent of the industry's revenue and 16 percent of the spectrum capacity, according to New Street Research estimates.
The auction will further strain Verizon's balance sheet and put its credit rating at risk, but the company doesn't have a choice, New Street's Chaplin said.
"More debt will limit Verizon's strategic options," Chaplin said. "But there is no strategic imperative greater than spectrum."
Before it's here, it's on the Bloomberg Terminal.
LEARN MORE