SNB's Jordan Takes Refuge in Swiss Alps Among Global Allies
Elena Logutenkova and Simon Kennedy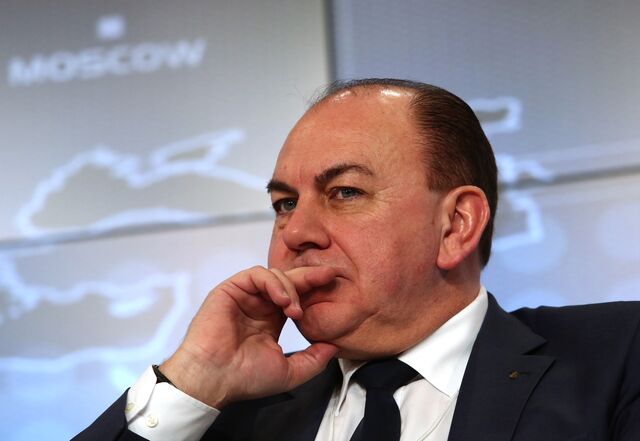 Swiss central bank President Thomas Jordan may be finding refuge in the Alpine resort of Davos.
Almost a week since roiling financial markets and drawing the ire of international investors by unexpectedly scrapping a three-year cap on the Swiss franc versus the euro, Jordan, 51, won support today from a string of former central bankers at the World Economic Forum.
"The SNB did the right thing," said Axel Weber, 57, former Bundesbank president and now chairman of UBS Group AG. "Better an end with a shock, than shocks with no end."
Jordan's decision was branded everything from "idiotic" to "brave" after the Swiss National Bank's move to abolish the ceiling on Jan. 15 sparked a 41 percent surge in the franc versus the euro. The aftershocks triggered hundreds of millions of dollars in losses at European banks, wiping out currency firms from New York to New Zealand.
The announcement was all the more unexpected because, two days earlier, SNB Vice President Jean-Pierre Danthine re-affirmed the currency cap as a "pillar of our monetary policy." The SNB introduced the measure in 2011 to protect the economy from deflation and ward off investors piling into the currency that's perceived safe in times of crisis.
'Idiotic' Decision
Jordan, who was seen shaking hands with IMF Managing Director Christine Lagarde during an afternoon session at Davos today, found himself confronted with criticism at home and abroad. Nick Hayek, chief executive officer of Swatch Group AG, Switzerland's largest watchmaker, said the central bank has set off a "tsunami" for the country's economy.
Craig Erlam, an analyst at Alpari (UK) Ltd., called it an "idiotic" move. The U.K. foreign-exchange broker was forced into administration this week after failing to find a buyer.
Others are more pragmatic.
"It would be interesting to hear the motivation and arguments of the decision that led to very serious consequences," VTB Group CEO Andrey Kostin said in an interview in Davos. "I think Swiss officials were tired of the situation with the euro and they decided to show a certain autonomy and independence of their actions."
Temporary Effort
What investors failed to realize was that the central bank's unconventional measure was a temporary effort and that its ending would eventually become necessary in a world of flexible currencies, surprising some, said former Bank of Argentina Governor Mario Blejer.
"You don't announce these things," Blejer, now the vice chairman of Banco Hipotecario SA, said at the WEF "The regime was not there to be all the time, it was temporary. A lot of people who criticized the move, also criticize fixed exchange rates."
Former Bank of Israel Governor Jacob Frenkel said the fault for the turmoil lay with a failure by investors to better account for risk, something they need to be alert to as central banks look to normalize monetary policy after years of stimulus.
"It was clearly inevitable," said Frenkel, now chairman of JPMorgan Chase International. "The question was not whether it would be stopped but when and how."
Former European Central Bank Chief Economist Juergen Stark was also supportive, calling the move "brave and justified," according to an interview in Neue Zuercher Zeitung.
'Good Reaction'
Bank of America Corp. CEO Brian Moynihan said the abrupt move in the franc against other currencies was an example of what "over-reliance on unconventional means can lead to."
"The whole world woke up and said you've gotta be kidding me, a single-day movement," Moynihan said at a panel in Davos. When central banks move to a more normalized environment, "it has a pretty good reaction."
Soft-spoken Jordan, who has worked for the central bank since 1997, climbed through the SNB's ranks to become its head in 2012 after then-President Philipp Hildebrand resigned amid an uproar over his wife's foreign-currency purchases just before the ceiling was introduced. The father of two sons, who met his wife while at school, studied in Bern before spending three years at Harvard.
His decision may have been swayed by plunging oil prices and an expectation of fresh European Central Bank stimulus. They were reinforcing Switzerland's status as an investment haven and adding to pressure on the franc.
Weber said he expects the Swiss economy to be able to overcome challenges, adding that it will return to "normality" along with the franc at some point.
"There will be a big impact on the Swiss economy this year," he said "There will be, I think, at least some reversal of this overshooting that we've seen in the markets. So I'm quite confident that once the dust settles, we're moving back to more normality with a more normal exchange rate regime for Switzerland."
Related News and Information: Is Dollar Next? Investors Reassess After Swiss Shock: Currencies SNB's 'Nuclear Explosion'
Before it's here, it's on the Bloomberg Terminal.
LEARN MORE