Treasury Volatility Return Suggests More Gains: Chart of the Day
Susanne Walker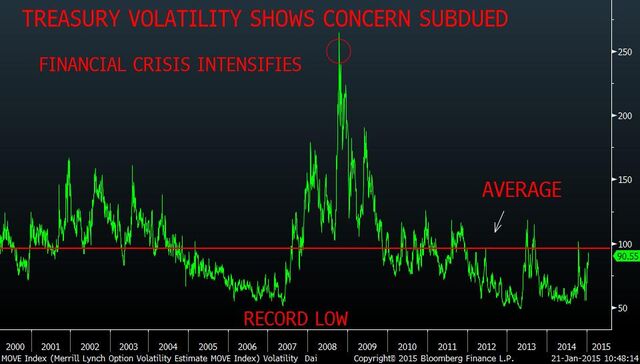 The surge in Treasury bond market volatility this year that has pushed price swings back toward historical averages suggests the rally that sent yields to record lows may have more room to run.
The CHART OF THE DAY shows Bank of America Merrill Lynch's MOVE Index, derived from over-the-counter options on Treasuries maturing in two to 30 years, rose to 92.62 on Jan. 16, compared with an average of 96.3 going back to 1999. The index rose from
68.94 at the end of last year as traders removed bets the price of U.S. government debt would drop as demand from global investors climbed.
"It's difficult to make the case that this is something that has unsettled bond investors so far, given where volatility has been in the past five years -- supremely low," said Aaron Kohli, an interest-rate strategist in New York at BNP Paribas SA, one of 22 primary dealers that trade with the Federal Reserve. "The market has retained its robustness. With the global malaise, they're going to need yields. It will be a yield grab."
Volatility has risen as expectations build for additional stimulus from the European Central Bank tomorrow push investors into U.S. debt, which is offering higher yields than 17 of 25 developed nations. Stronger U.S. economic growth and expectations for the Fed to raise rates this year haven't reduced the allure of Treasuries.
The MOVE index reached a record high in October 2008 when the financial crisis intensified and sunk to an all-time low in May 2013 as the Fed was in its third round of bond purchases.
Before it's here, it's on the Bloomberg Terminal.
LEARN MORE