The Very Brief Cuba Ovation
Senator Marco Rubio finds something to like.
By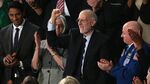 As soon as the White House published the official text of this State of the Union, it was clear that the section on Cuba would rankle. When it came, Cuban members of Congress, mostly Republican, sat stone-faced.
"In Cuba, we are ending a policy that was long past its expiration date," said the president. That got applause from a couple of Republican senators, including Mike Enzi of Wyoming and Susan Collins of Maine, but from few others.
"When what you're doing doesn't work for 50 years, it's time to try something new," Obama continued. "Our shift in Cuba policy has the potential to end a legacy of mistrust in our hemisphere; removes a phony excuse for restrictions in Cuba; stands up for democratic values; and extends the hand of friendship to the Cuban people. And this year, Congress should begin the work of ending the embargo. As His Holiness, Pope Francis, has said, diplomacy is the work of 'small steps.' These small steps have added up to new hope for the future in Cuba."
The Cuban-Americas, including Senator Marco Rubio and Representative Ileana Ros-Lehtinen of Florida, did not move or react for any part of that. Then came this line:
"And after years in prison, we're overjoyed that Alan Gross is back where he belongs. Welcome home, Alan."
As soon as the words escaped the president's lips, Rubio—who, like Speaker of the House John Boehner, had brought a Cuban dissident to the speech—leapt up, turned to Gross, and applauded. Every Republican joined him.