The Very Brief Cuba Ovation
Senator Marco Rubio finds something to like.
By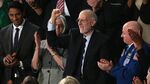 As soon as the White House published the official text of this State of the Union, it was clear that the section on Cuba would rankle. When it came, Cuban members of Congress, mostly Republican, sat stone-faced.