The Mystery of Georgia's Missing Governor Has Been Solved
A swing through the U.K., it turns out.
By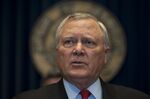 The case of the missing governor has come to a close, kind of.
While we don't know exactly what Georgia Governor Nathan Deal—who disappeared this weekend and missed a scheduled appearance at a Martin Luther King Jr. day event—was doing, we now know he traveled to the United Kingdom and has since returned to Georgia. On Wednesday, Deal's spokesman, Brian Robinson, shed light on the governor's whereabouts in a tweet:
The last time a U.S. governor—South Carolina's Mark Sanford—disappeared, "hiking the Appalachian Trail" became a euphemism for visiting your mistress in Buenos Aires. But Deal's office insisted that no South American paramours were along for the ride to the U.K. 
"He's on official business ... There's no Argentinian lover involved," Brian Robinson, a spokesman for Deal, told the New York Times, referring to now-U.S. Representative Sanford.
Robinson said Deal was meeting with private citizens, not public officials, and didn't want to jeopardize a potential deal. Greg Bluestein at the Atlanta Journal-Constitution first reported that the governor was in Britain, Georgia's fourth biggest foreign trade partner, according to two sources. Deal's office initially refused to confirm the report. 
While the mystery has been solved, some criticism remains. "If there's any place on earth that ought to treat MLK Day as a big public holiday that public officials just don't skip, it's King's home state of Georgia," Ed Kilgore, a left-leaning columnist at Washington Monthly wrote.