Photographer: Hannelore Foerster/Bloomberg
ECB
The Counterintuitive Case For Why Europe's Bond Yields Might Rise On QE
It's what happened in the U.S. when the Fed deployed more stimulus
by
European Central Bank President Mario Draghi has proposed injecting up to 1.1 trillion euros in the region's economy, Bloomberg News reported today. Normally, you would expect this kind of stimulus to make bond yields fall. But if recent U.S. history is any guide, yields on euro area bonds may well rise in the event Draghi's colleagues decide to back his aggressive plan.
And that won't necessarily be a bad thing, according to Roberto Perli, a partner at Cornerstone Macro and a former Federal Reserve official. 
As shown in the following charts, yields on 10-year U.S. Treasury notes increased in the month after the Fed announced the first round of quantitative easing -- dubbed QE1 -- on Dec. 16, 2008 and QE2 on Nov. 3, 2010. For QE3, yields initially spiked higher after the Sept. 13, 2012 announcement, then fell back to show little change after a month.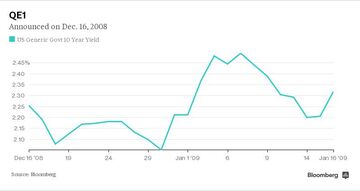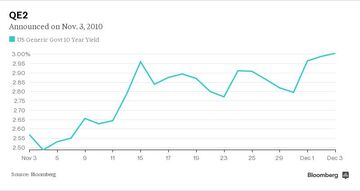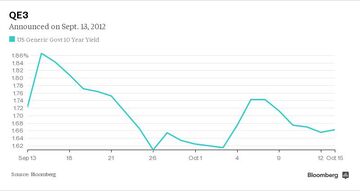 On the face of it, the movements in interest rates after the announcement of QE are perplexing. Why would yields rise -- and prices fall -- after a new, big buyer -- the Fed -- entered the bond market?
The answer lies in the following charts: inflation expectations, as measured by 10-year break-evens, rose post QE1 and QE2 as investors grew more confident that the Fed would do whatever it took to avoid deflation. That helped push up the nominal yield on the notes. (Again QE3 was a bit of an outlier,  with inflation expectations first rising then falling back to show not much change after a month.)
 So don't be surprised if euro area bond yields increase after the ECB goes ahead with a government bond-buying program of its own. ``There is no reason'' to expect anything different from what occurred in the U.S., according to Perli. And if yields do rise because deflation fears are fading, count that as a success, not a failure, for the European Central Bank.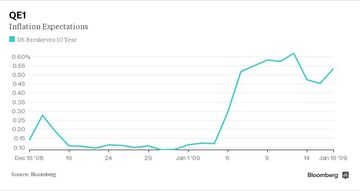 Before it's here, it's on the Bloomberg Terminal.
LEARN MORE