Scallop Clouds and Ants on a Shrimp: Dinner at Noma in Tokyo Review
Famous chef René Redzepi moved from Denmark to serve a 15-course menu built from Japanese ingredients
By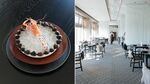 It's dinnertime in Tokyo, and I'm gulping my champagne because the raw, pristine shrimp in front of me is so recently dead that its brain has yet to telegraph this information to the rest of its body. For now it's all twitching muscle and whirring antennae.
"Don't be alarmed when you pick it up," says René Redzepi. The 37-year-old chef at the top of his game has moved here from Denmark to serve a 15-course menu built from Japanese ingredients. He says other things, too, such as where the shrimp comes from and why it's covered in ants, but I don't hear any of this because I'm still taking in the fact that it's a shrimp covered in ants. It's like that moment in a horror movie when they pull away the sheet.
Noma, Redzepi's internationally famous restaurant in Copenhagen that is widely considered one of the best in the world, has actually been using ants for years now—not to mess with people, but to take advantage of the bugs' natural reserves of formic acid, which can mimic the sourness of citrus. (The fruit trees don't grow in the surrounding region, so they're generally off limits to Noma's kitchen.) In 2012, Redzepi served ants at his pop-up in London, chilling them down so they might wake up slowly and presumably a little disoriented—where are we, Frank?—floating through Claridge's on cabbage leaves. More recently, Redzepi's cooks have sprawled them over raw beef and used them to season grilled cucumbers like a squirt of lemon.
Citrus happens to be in season in Japan, from giant hassaku oranges and sour kabosus to fresh yuzu, and Noma's kitchen makes good use of it all. But here, at the very beginning of dinner, the ants are a reminder that you're in the house of Redzepi—at his Tokyo pop-up in the Mandarin Oriental hotel. After photographing the shrimp, and almost everyone finds it necessary to photograph the shrimp, biting down on it is shockingly good: soft and yielding tail meat, exceptionally bright and sweet, slightly sticky, with some high, sharp, throat-warming stuff going on. It goes from terrifying to beautiful, like the ocean after a storm.
(After dinner, on the Tokyo Metro, I got my notes down in emoji.)

From the luxuriously spare dining room, Tokyo's skyline glitters. The next three hours zoom by. Around me are well-dressed diners from the city and other parts of Japan, and a joyful, tipsy, grownup birthday celebration occasionally squeals with delight by the window. (Note: Noma is not too cool to send a grinning server out with a candle.) A few diners have traveled farther to be here, from China, the U.S., and Europe—and some are opting for the nonalcoholic juice pairings, nursing their jet lag with sour orange and pine. Although the hotel's grim lobby is a bit of a ghost town, the glassy, slightly gaudy bar up here on the 37th floor is stunning, full of loungers. Walk on, and you'll see how the crew has transformed the actual dining room into something sleek and Noma-ish—the tables are bare, the chairs are draped with cuddly animal skins, and a gnarly tree seems to grow right in the wall. There is very little to remind you of the French restaurant that normally occupies this space.
A fine bowl of winter citrus is in pith-free segments, glistening in a puddle of kelp oil—thick and syrupy and ever so faintly skunky—with tiny sansho leaves and berries that tickle with a feathery heat. The fruit is generously seasoned but not obscured. It dapples in like light through a canopy.

Monkfish liver is outstanding, arriving on just enough toast to carry it, in thin, cold curls that melt away in the warmth of your mouth. Long strands of raw cuttlefish dressed in the animal's own inky guts are presented on a wide slotted tray like Japanese soba noodles, with an ice-cold bath of rose water and pink petals on the side. Dip the cuttlefish into the bath, and the aroma is instantly pretty and delicate. Is the flesh so easily transformed? No. Chew, and you find it's just a spritz of perfume. Those darker, unsettling flavors are still at work underneath. 
Service at Noma is fast and confident, friendly but unobtrusive, and presentations are mostly simple. One of my favorite dishes of the night is a white construction of soft rice and ice cream with abstract rice crisps that change texture as they soak in a pool of tangy wood-sorrel juice, poured tableside. And I found only a couple of dishes to be more good-looking than they were good-tasting, such as the very crunchy root vegetables around a sticky cured egg. Not so with the intensely flavored fruit leather of black garlic, fermented until soft and sweet, then folded like a paper fan. It was stunning to look at, a little slick and greasy, but with a flavor that went on and on. 
When reservations opened for the pop-up last summer, the fact that dinner for two with wine cost about the same as a flight from New York to Tokyo ($1,350) did nothing to hinder interest, and the books filled up almost immediately. For fans and regulars, and the people who travel across the world for dinner every time Redzepi trims his beard, this menu is loaded with references to dishes served in Copenhagen. The fermented mushroom, a chewy chocolate-coated candy, may look familiar. Variations on the shrimp on ice are something of a trademark.

Skeptics often think of Noma, or the brand of fine dining it has inspired, as a kind of culinary con—cooks pulling bitter, bad-tasting weeds from the ground and tricking so many rich people into eating them. But Redzepi, who has now been running Noma for about 15 years, produces deeply intelligent, thoughtful menus that are full of deliciousness. And when there's a challenge, it rewards in unexpected ways. Take the caramel-colored scallop cloud. No, it's not particularly photogenic, and the smell is, if we're being polite, powerfully fishy. It's borderline stinky, like what Gollum might use as an air freshener. But as I eat it, I become obsessed with it: light in texture, heavy with flavor, sticking to the roof of my mouth with the sweet insistence of peanut butter. Dried for two days, then aerated, it reminds me how much technique is quietly at work behind the scenes—not to distract or show off, but to focus and intensify, to get you even closer so you taste the thing more clearly.
To serve a 15-course menu twice a day from Jan. 9 to Feb. 14, Redzepi and his research team traveled all over the country to research local ingredients and meet purveyors, then relocated Noma's team of more than 60 cooks and servers to live and work at the Mandarin Oriental. It was an exercise in applying a long-honed ethos in an entirely new environment, an experiment. A few of the resulting dishes were obscenely good one week in, and the ones I couldn't get out of my head respectfully expanded on Japanese technique and tradition, such as exquisite fresh tofu under a snow of pale walnuts and yuzu zest. Alone, it was something—bare and sweet and clean—but at the bottom of the bowl was a thick umami-rich sauce that seemed to heighten and refresh and complicate everything. It was essentially perfect, and at the time I wondered, why didn't Redzepi start the meal with something easier than that shrimp? Something like this?

When the wild duck arrived, presented first whole with its head lolling, then carved with its head split in half, its brains still in the hollow, I knew why. In places the skin was chewy, in others soft. Some meat was livery and rich with blood, other parts tough, grainy, windpipe-y, kinky with bone and cartilage. Alongside the most conventionally pretty, sought-after parts was an invitation to get to know the whole bird. 
That's because Redzepi doesn't deal in the sort of squishy, coddling fine dining that sedates you like a massage. Noma wants to delight, and it does, but the kitchen often seems more interested in letting you find your own way to pleasure and in pointing out the places where beautiful and ugly blur. Noma may be on the 37th floor of a hotel in Tokyo for now, but it brings the natural world in so close, you can taste it. You can almost feel it wriggle.

Tejal Rao is the New York food critic for Bloomberg. Follow her on Twitter @tejalrao and Instagram @tejalra or contact her at trao9@bloomberg.net
Before it's here, it's on the Bloomberg Terminal.
LEARN MORE