business
S&P Suspended and Fined $80 Million in SEC, State Mortgage Bond Cases
Keri Geiger and Matt Robinson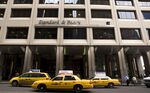 Standard & Poor's agreed to be suspended from rating the biggest part of the commercial-mortgage bond market and pay almost $80 million to state and federal authorities over claims it bent criteria to win business.
S&P misled investors about the methodology it used in 2011 to rate eight commercial-mortgage backed securities, the U.S. Securities and Exchange Commission said in a statement today. The company will pay about $58 million to the SEC and an additional $19 million to attorneys general for New York and Massachusetts to settle the matter.
"Standard & Poor's elevated its own financial interests above investors by loosening its rating criteria to obtain business and then obscuring these changes from investors," Andrew Ceresney, director of the SEC's enforcement division, said in the statement. "These enforcement actions, our first-ever against a major ratings firm, reflect our commitment to aggressively policing the integrity and transparency of the credit-ratings process."
S&P said in a statement that it takes compliance with regulatory obligations "very seriously" and continues to invest in "controls and risk management throughout the organization."
The agency also filed an administration action against Barbara Duka, the former head of CMBS at S&P. The SEC claimed that Duka pushed to change S&P criteria to get on more deals. On Jan. 16, Duka sued to block the action, claiming that she and other members of her team "reasonably believed" that the change was "analytically correct" and not driven by commercial goals.
Guy Petrillo, a lawyer for Duka at Petrillo Klein & Boxer, said that his client "did not act wrongfully and always performed her duties at S&P in the utmost good faith. She looks forward to clearing her name in a public courtroom, as mandated by the Constitution," he said.
On a conference call with reporters, the SEC's Ceresney said he hoped that today's action "will lead to cultural change at the organization."
Today's accords are separate from lawsuits by the U.S. Justice Department and 19 states and the District of Columbia against S&P related to securities backed by subprime home loans that the company graded years earlier. The company is close to settling those lawsuits with $1.4 billion penalty that may be reached as soon as next week, according to two people with knowledge of the matter. The deal could be delayed because of the number of parties involved, one of the people said.
(An earlier version of this story was corrected to amend the settlement amount with states.)
(Updates with statement from Duka's lawyer in sixth paragraph.)
Before it's here, it's on the Bloomberg Terminal.
LEARN MORE