Rupert Murdoch, Kim Kardashian, and the New Politics of Nude
The hiatus in the tabloid king's page 3 pinups may mean that objectification is out of fashion—but self-objectification is a different matter.
By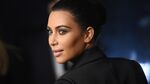 On Monday, Page 3 of the Sun, Britain's best-selling newspaper, bore breasts not bare, but covered in skimpy lingerie. Tuesday brought actresses on a beach, wearing swimsuits. The tabloid had published a daily topless photo since 1970, just months after Rupert Murdoch purchased the Sun and promised the former owners that he would print a "straightforward, honest newspaper." Last September, Murdoch tweeted that he considered the Page 3 feature "old-fashioned." The octogenarian mogul is right: there's something decidedly retrograde in Page 3's brand of soft-core porn. This week, at last, the Sun made way for tops.