REIT Index Records Looming on 'Lust for Yield': Chart of the Day
David Wilson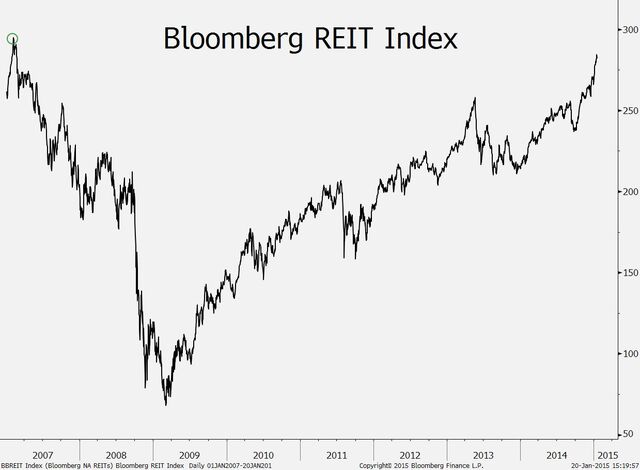 Real estate investment trust stock indexes may be headed for records as income-seeking investors turn to the shares, according to Michael Hartnett, chief investment strategist at Bank of America Corp.'s Merrill Lynch unit.
The CHART OF THE DAY displays the performance of the Bloomberg REIT Index in the past eight years. Last week, the 166-stock index closed 3.6 percent away from its record, set in February 2007.
MSCI's U.S. REIT index, tracked by Vanguard Group Inc. mutual funds and exchange-traded funds, came even closer to a new high. The gauge of 141 stocks finished the week 2.4 percent below its February 2007 peak.
"It is the turn of REITs to be the asset class attracting large speculative inflows in search of yield and growth" in the first quarter, Hartnett wrote three days ago in a report.
Near-zero benchmark interest rates and sub-1 percent government bond yields in much of the world produced a "lust for yield," the New York-based strategist wrote. REIT shares are poised to benefit from the trend, he wrote.
The Bloomberg index's dividend yield as of yesterday was
3.38 percent, or a full percentage point greater than the yield on the Treasury's 30-year bond. The gap exceeded 1 point last week for the first time since June 2012, according to data compiled by Bloomberg. The MSCI index had an even higher yield,
3.53 percent.
Before it's here, it's on the Bloomberg Terminal.
LEARN MORE