Franc Fallout Spreads as BlueCrest Declines; Braga Gains
Saijel Kishan, Lindsay Fortado and Will Wainewright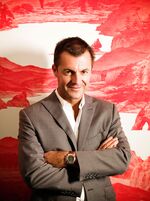 Billionaire Michael Platt's BlueCrest Capital Management lost money in one of its funds and at least two employees departed as the fallout from last week's sudden jump in the Swiss franc spread across the hedge-fund industry.
Platt lost 5.5 percent in his macroeconomic fund through Jan. 16, two people with knowledge of the matter said. Comac Capital, Fortress Investment Group LLC and Everest Capital also reported declines.
Among managers avoiding losses are Leda Braga, a former BlueCrest executive who started her own computer-driven trading firm this month, and who gained 7 percent in January through last week. Billionaire Alan Howard posted gains in his main fund at Brevan Howard Asset Management.
The market turmoil caused by the Swiss National Bank's surprise decision on Jan. 15 to remove a three-year-old cap on its currency pushed some currency-trading firms into insolvency and caused losses worth hundreds of millions of dollars at banks and hedge funds. The franc soared as much as 41 percent against the euro that day.
Speculators boosted wagers that the franc would weaken against the dollar to the highest in 1 1/2 years this month, Commodity Futures Trading Commission data show, only to be hurt by the currency's jump.
Platt's Woes
At BlueCrest, the declines are a further setback for former JPMorgan Chase & Co. trader Platt, 46, who started the firm in
2000. BlueCrest has faced underperformance, a decline in assets as clients pulled money and concern that an internal fund run for select employees may pose conflicts of interest between BlueCrest and its clients.
Amid last week's losses, Luke Halestrap and Peter McGarry left the $15 billion Jersey-based firm, said the people, who asked not to be named because the information is private. BlueCrest shut a portfolio run by currency money manager, Peter Von Maydell, a person with knowledge of the decision, said yesterday.
Halestrap and McGarry didn't reply to e-mails and telephone messages seeking comment. Before BlueCrest, Halestrap was at Merrill Lynch & Co., where he oversaw European trading in basic interest-rate related products. McGarry had previously worked at 5:15 Capital Management and BNP Paribas SA.
Braga's Gain
Braga, the 48-year-old Brazilian who ran quantitative trading at BlueCrest, said in September that she was planning to start her own firm, Systematica. She planned to take almost a third of BlueCrest's assets, with Platt's firm taking a minority stake.
Her $5.6 billion BlueTrend fund posted a 3 percent gain last week, according to an investor update from her Geneva-based firm. Systematica oversees $7.7 billion in total in the strategy, which uses computer models to decide when to buy or sell stocks, bonds, currencies and commodities.
Another Geneva-based hedge fund manager, billionaire Howard, 51, avoided losses in his largest hedge fund, according to a person familiar with the matter. Howard's Brevan Howard Master Fund gained 1.9 percent in the month through Jan. 16, compared with 1.1 percent as of Jan. 9, the person said.
Chris Rokos, who co-founded Brevan Howard with Howard and three other traders in 2002, said today that he will start his own hedge fund with the backing of his former employer after settling a lawsuit against the firm. Rokos had generated more than $4 billion when he worked at Brevan Howard.
Fortress's Loss
In New York, Todd Edgar's Atreaus Capital rose 10 percent last week as the $800 million currency and commodities hedge fund speculated that the euro would tumble, said another person. Atreaus, backed with $150 million from Goldman Sachs Group Inc.'s asset management arm in 2012, rose 9 percent last year, helped by wagers that the dollar would rise.
Other firms were less prescient. Fortress's macro fund lost
7.9 percent this month through Jan. 16, according to an investor. The shares of the New York-based firm fell 4.4 percent today on the news, the biggest decline in four months.
Comac Capital, the $1.2 billion firm run by Colm O'Shea in London, is returning money to clients after losses. Everest Capital, run by Marko Dimitrijevic in Miami, saw all the money in its $830 million Everest Capital Global fund wiped out, leaving the firm with $2.2 billion in its other funds.
Officials for the hedge funds declined to comment.
Before it's here, it's on the Bloomberg Terminal.
LEARN MORE