Paris Attacks Spur Security-Spending Boost as Police Overwhelmed
Gregory Viscusi and Helene Fouquet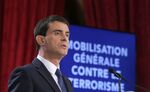 France will boost spending on security after this month's attacks in Paris, with Prime Minister Manuel Valls warning that the country is "overwhelmed" by ever-increasing numbers of potential terror suspects.
There are about 3,000 people to monitor in France, Valls said, including those who have fought in Syria and older networks of radical Islamists who've been in Iraq or Afghanistan, he said.
France will hire an extra 2,680 people and spend an additional 425 million euros ($491 million) over the next three years and pass new laws to better track Internet sites and airline passengers. Today's announcements come as Paris prosecutors charged four men with aiding this month's terrorist shootings in the French capital that killed 17 people, the deadliest such attacks in more than half a century.
"The number of radicalized individuals who could take action never ceases to increase," Valls said in a press conference in Paris after a cabinet meeting. "We need to increase the human and technical means of our security forces."
The new hiring comes on top of promised increases in police forces. The spending will be covered by budget reserves and doesn't require the approval of the European Commission, which has criticized France for its budget deficits, Valls said.
"We will underline that these efforts cost money," he said.
The new funds will go into equipment for security forces, including bullet proof vests, special helmets, new vehicles and more powerful computers.
Attack Investigations
A new law allowing greater surveillance of Internet sites and other communications will be presented to parliament by March. France will adopt by September rules that would require airlines to provide data on passengers flying in and out of the country.
Meanwhile, the Paris prosecutor said headway is being made in piecing together the possible network behind Amedy Coulibaly, who killed a police officer in a Paris suburb on Jan. 8 and then murdered four hostages at a kosher market the next day.
The probe into the killings by Said and Cherif Kouachi, who gunned down 12 people at satirical magazine Charlie Hebdo, is advancing more slowly. The three killers were shot dead in almost-simultaneous police raids.
Four men were charged yesterday with procuring weapons and maybe vehicles for Coulibaly.
Cherif Kouachi had been jailed for his role in a ring that sent French fighters to Iraq in 2005. His bother Said went to Yemen in 2011, where he trained with an al-Qaeda affiliate. Coulibaly had a history of common crime and was radicalized in prison.
Valls said prison authorities will hire an extra 60 Muslim chaplains to work with the existing 182 chaplains, who say they are too few to counter self-styled religious leaders in jails.
The Paris region remains on its highest level of terror alert, and Valls today said 122,000 police, gendarmes, and military personnel are protecting "sensitive sites" such as Jewish institutions, mosques, nuclear plants, and government buildings.
Before it's here, it's on the Bloomberg Terminal.
LEARN MORE