Obama Likes Turning Pages Even More Than Bob Seger
But so do a lot of politicians.
By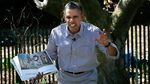 President Barack Obama kicked off his State of the Union address on Tuesday by saying that it was time to "turn the page" away from the darker days of the early 21st century.
The phrase is one of his favorites. Politico found 12 additional instances of his using it throughout his presidency, and there are more, including in his remarks about the economy in July 2013 and in several of his weekly radio addresses. 
In fact, the phrase appears in the president's rhetoric more than five times as often as it does in the Bob Seger song "Turn the Page."
Let's break down those numbers further. Even if you count all the times the phrase appears in the original version of the song, the radio cut, and the Metallica cover, Obama has still used the phrase almost twice as much.
Among politicians, the phrase enjoys bipartisan support. Florida Republican Senator Marco Rubio said it on CBS's "Face the Nation" on Sunday. Mitt Romney has been known to flip pages, too: in his remarks at the 2012 GOP convention, he said, "America has been patient. Americans have supported this president in good faith. But today, the time has come to turn the page."