NFL Says Patriots Used 11 Under-Inflated Balls, Globe Says
Rob Gloster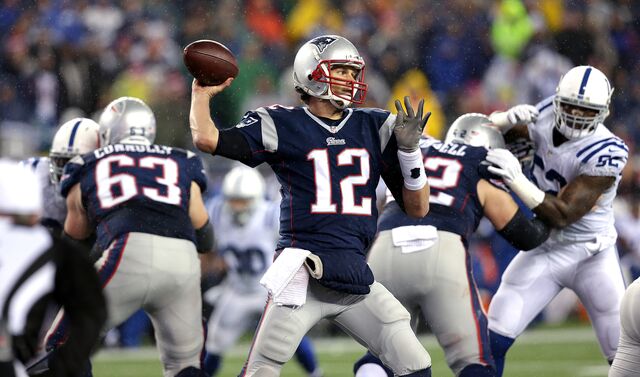 The National Football League found 11 of the 12 footballs used by the New England Patriots in their playoff win against the Indianapolis Colts were not fully inflated.
Each NFL team provides 12 footballs per game that are used when its offense is on the field. Balls inflated to less than the required weight may be easier for a quarterback to throw and receivers to catch. The balls were inflated two pounds per square inch below the NFL's specifications of between 12.5-13.5 PSI, ESPN reported, citing people it didn't identify.
Newsday reported yesterday that the Colts first noticed the ball didn't seem fully inflated after an interception by Indianapolis linebacker D'Qwell Jackson in the second quarter of New England's 45-7 American Football Conference Championship game win three days ago. Jackson handed the football to a member of his team's equipment staff, who notified coach Chuck Pagano about the ball, Newsday said, quoting a person familiar with the situation.
Colts general manager Ryan Grigson then contacted Mike Kensil, the NFL director of football operations, and Kensil at halftime notified the game officials, Newsday said.
In 2007, the NFL fined the Patriots and coach Bill Belichick a combined $750,000 and took away a first-round draft choice for videotaping teams' signals in violation of league rules. The illegal practices were discovered after NFL security removed a Patriots employee with a video camera from the sideline during a victory against the New York Jets.
'Competitive Integrity'
Belichick was asked about the NFL investigation of the footballs on a conference call with reporters yesterday and whether he had been contacted by league officials.
"Any questions on that you should talk to them about," Belichick said as his team continued preparations for the Feb. 1 Super Bowl against the defending champion Seattle Seahawks.
NFL vice president of football operations Troy Vincent said in an interview with NBC's Pro Football Talk yesterday that he expects the investigation to finish in the next two to three days.
"When you begin getting into things that affect the integrity of the game, every player, every coach, every owner, every general manager, the one thing you want is competitive balance, competitive equity, competitive integrity," Vincent said. "For a fan, you want to know that everything's equal."
Before it's here, it's on the Bloomberg Terminal.
LEARN MORE