Microsoft's Nadella Previews Windows 10, Unveils New Web Browser
Dina Bass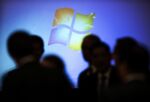 Microsoft Corp., seeking to use the next version of its Windows software to win back consumers and keep business customers happy, gave a detailed look at the new operating system and took the wraps off a revamped Web browser.
At an event Wednesday to preview Windows 10, the new iteration of its flagship personal-computer software, Microsoft showed the browser that will succeed Internet Explorer, code-named Project Spartan. The update to Windows, coming later this year, will also bring Cortana, the voice-activated digital assistant, to PC desktops, and will have touch-enabled Office applications such as Word and Excel built-in for smartphones and tablets.
Chief Executive Officer Satya Nadella, who took the helm almost a year ago, is trying to resuscitate Windows even as mobile computing continues to surge, PC demand sputters, and Microsoft focuses on versions of its Office applications for rival software platforms. He's also tasked with overhauling the product little more than two years after the last update -- Windows 8 -- failed to jump-start consumer demand while alienating corporate customers.
"A lot of this is really about making a sharper message for consumer," said Wes Miller, an analyst at Directions on Microsoft. "How do you appease the enterprise while making it a great tablet operating system and not one thing layered on top of another thing?"
Windows Holographic
Microsoft also announced Windows Holographic, and a headset with glasses called HoloLens that will enable users to see holograms while tracking a user's voice, motion and surroundings. The glasses will be available "in the Windows 10 timeframe," said Alex Kipman, a technical fellow in Microsoft's operating system group. The company also showed HoloStudio, software tools for creating holograms, 3-D printing them and sharing them.
The new browser showed today lets users annotate websites using a stylus and touch or mouse and keyboard, and then send and share comments through e-mail and social media.
The company also announced a new device called the Surface Hub, an 84-inch touch-screen computer designed for workplace collaboration that will run Windows 10.
The software maker said it will give free upgrades to Windows 10 to customers with Windows 8.1, Windows 7 and Windows Phone 8.1 for the first year 10 is on sale. Microsoft will start distributing Windows software as a service, keeping customers' versions up to date and supported, Executive Vice President Terry Myerson said at the event in Redmond, Washington.
"One can reasonably think of Windows as one of the largest Internet services on the planet," Myerson said. "The question 'What version are you running?' will cease to make sense."
Updated Apps
The new version of Word for Windows 10 has a review tab to look through changes from other people and aid collaboration. The recent document list can roam from device to device. There's also a new Outlook app that mimics Apple Inc.'s iOS in letting users swipe left to delete or right to flag an e-mail message.
A new photo app aggregates a user's entire photo collection from various devices and eliminates duplicates. Microsoft will also add support for storing music files in its OneDrive storage system, allowing access to music from all devices.
Microsoft also demonstrated an Xbox app for Windows and mobile devices running the software. The company will allow users to stream games from the Xbox One console to Windows PCs and other devices in the home. Xbox Chief Phil Spencer demonstrated how he joined a game as a second player from his PC.
"We want to move from people needing Windows to people choosing Windows to people loving Windows," Nadella said today.
Windows Shift
The Windows team has had to course-correct several times in the past decade. Windows 7 was a bid to recover after the debacle of Windows Vista, which was released more than two years late in 2007 and didn't work well with popular apps and accessories. Windows 8 itself was a significant revamp -- Microsoft called it "a reimagining of Windows"-- designed to arrest sliding market share, which had dropped to about a fifth of all computing devices sold to consumers.
Windows 10 is a shift from the confusing Windows 8 design, which offered a new touch-screen interface alongside the traditional Windows style. Many users didn't have touch machines, and corporate customers preferred to use a mouse and keyboard -- so Windows 8 didn't gain much share on tablets or win back consumers. Instead, it scared off corporate customers, many of which are still on Windows 7, which was released in 2009.
Design Elements
Today's event wasn't the first look at Windows 10 -- the company gave a preview of corporate features in September. That demonstration showed an attempt to meld some of the design elements of Windows 8 with the older, start-menu-driven approach that business users favor.
The biggest challenge for Windows in recent years has been the declining importance of the PC. At the same time, Microsoft has failed to succeed in phones and tablets -- Windows was installed on 11 percent of all devices shipped in 2014, according to a Sanford C. Bernstein & Co. analysis. That's because PCs accounted for only about 10 percent of computing devices last year.