Indian Air Power at Risk as Rafale Warplane Deal Delayed
N.C. Bipindra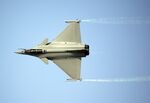 India's purchase of 126 Rafale fighter jets from France's Dassault Aviation SA is being delayed, even as the South Asian nation struggles for enough squadrons to counter potential threats from China and Pakistan.
The sticking points are the 2007 tender's $11 billion price tag and India's requirement for quality guarantees from Dassault for planes made under license locally by Hindustan Aeronautics Ltd., three officials with knowledge of the matter said. They asked not to be identified as the talks are private. India had aimed to sign the contract by the end of last year.
The air force estimates at least 45 squadrons are needed to repel a joint attack from Pakistan and China, compared with a current active strength of 25, which includes 14 squadrons whose MiG-21 and MiG-27 jets are due to be taken out of service starting this year. That shows the deal's importance for Prime Minister Narendra Modi's agenda of military modernization. For Dassault, a sale would be its first export of the combat plane.
"The air force can't go through the process of selecting another aircraft," said New Delhi-based Manmohan Bahadur, a distinguished fellow at the Centre for Air Power Studies and a retired air vice marshal. "That would delay induction plans. The deal is huge. It boosts the possibility of Dassault selling Rafale to other countries."
Nungsanglemba Ao, an Indian defense ministry spokesman, declined to comment on the contract talks, as did Mathieu Durand, a spokesman for Paris-based Dassault.
$11 Billion
The price will probably exceed $11 billion given the figure stems from a request for bids that's more than seven years old, two Indian air force officials said in August. The goal is to conclude the deal by end of 2014, they said at the time.
India chose Dassault's twin-engine, delta-wing Rafale three years ago over Boeing Co.'s F/A-18 Super Hornet, Lockheed Martin Corp.'s F-16 Fighting Falcon, United Aircraft Corp.'s MiG-35, Saab AB's Gripen and the Eurofighter Typhoon.
Further talks about the Rafale contract are due this month, Indian Air Chief Marshal Arup Raha said in a short interview in New Delhi on Jan. 15, adding he hoped remaining issues would be resolved soon.
Modi has cleared about $20 billion of arms procurement proposals since taking power in May, roughly double India's spending on weapons in the last fiscal year. The blitz spans heavy guns to submarines as he seeks to counter China's rising military heft and take a firmer stance on border disputes with Pakistan.
Domestic Manufacturing
India is the world's largest importer of major weapons. Modi is seeking more domestic production.
BAE Systems Plc, Europe's largest defense company, said this month it's given India the option of making howitzers locally to help conclude a deal that would equip an army strike force patrolling the Chinese border with the weapons.
Under the terms of the Rafale deal, Dassault would make 18 jets in France and state-owned Hindustan Aeronautics would produce 108. The French company's combat aircraft are used by that nation's air force. Dassault also makes Falcon luxury jets.
"Between India and France, one of them have to blink on the issue of the guarantee," said Nitin A. Gokhale, an independent national security analyst in New Delhi. "Until then, this negotiation cannot progress."
India's armed forces have more than 1,200 planes and helicopters of Indian, Soviet, U.S., French, British and Swiss origin.
Jet Crash
The air force has suffered crashes that raised questions about local maintenance and manufacturing. On Oct. 14, a Sukhoi fighter jet ejected its pilots without warning as they tried to land in the western city of Pune. The pilots survived.
The air force then grounded about 200 such aircraft, which Hindustan Aeronautics built under a Russian license. The Sukhoi fleet has "problems," Raha had said before the crash.
At the same time, China has built up the third-largest air force in the world, with about 330,000 personnel and some 1,900 combat aircraft, according to a U.S. Department of Defense report. China's J-31 stealth fighter made its debut in November last year, a project largely shrouded in secrecy and one that signals the nation's lead over India in warplane development.
Older aircraft are being taken out of service from the Indian air force more quickly than new ones are being inducted, according to a report last month from the Standing Committee on Defence.
'Slow' Projects
"Early induction of additional aircraft is crucial for arresting the draw down in the strength of the fighter squadrons," the Defense Ministry said in replies to questions from the panel.
Defense Minister Manohar Parrikar yesterday discussed the so-called India-Russia fifth-generation fighter jet project with his Russian counterpart Sergei Shoigu in New Delhi.
"There were some apprehensions expressed over the slow pace of work in some joint projects," Parrikar said, adding they agreed to speed them up.
The Rafale deal is key for both India and Dassault, Gokhale, the security analyst, said.
"Scrapping the tender is not an option," he said. "Combat fleet numbers are drastically dipping. Both the Indian air force and Dassault need this deal to conclude quickly."
Before it's here, it's on the Bloomberg Terminal.
LEARN MORE