How U.K.'s Austerity Cost London 6,300 Affordable Homes
Neil Callanan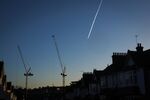 London's affordable housing investment will pay for about 15 percent fewer properties than it would have three years ago because of soaring construction costs, consulting firm EC Harris LLP said.
The city government will spend 1.25 billion pounds ($1.89 billion) constructing 45,000 affordable homes in London through 2018. If it had been invested in 2012, when the construction market was at a low point, the money London is spending now would have built 6,300 extra homes and created 2,000 jobs a year, Mark Farmer, head of EC Harris's residential team, said in a report.
"It is surely a common-sense philosophy to maximize the expenditure of public money when you can get 'more bang for your buck,'" Farmer said. "Some major infrastructure programs such as Crossrail have proceeded on this basis during the depths of the recession, but it would appear publicly funded or subsidized housing has not."
Chancellor of the Exchequer George Osborne cut spending on housing for the country's poorest by 60 percent from 2011 through 2015 as he focused on reducing Britain's budget deficit. The number of social and affordable homes completed in England fell by almost 30 percent in fiscal 2014 from three years earlier, according to government statistics.
Every pound spent on homebuilding results in a 2.75-pound benefit for the economy, meaning the government should spend more on housing when the economy's weak, Farmer said.
Private Homes
Much of the U.K.'s low-cost housing is funded today by private developers through levies paid in return for having their projects approved. That means affordable housing construction moves up and down with the private market, when it should be doing the opposite, Farmer said
Social housing delivery is now synchronized with the private market "and cannot act counter-cyclically as it has in previous economic downturns," he said.
Central London is now the most expensive place to construct homes and commercial properties in the world, Arcadis NV said Jan. 15. Arcadis owns EC Harris.
A Greater London Authority spokeswoman didn't reply to e-mails and calls seeking comment.
"This government is committed to delivering long-term economic stability and building the homes this country needs," the Department of Communities and Local Government said in an e-mailed statement. "More than 217,000 affordable homes have been built since 2010 -– a quarter of these have been built in London. The National Audit Office has also endorsed this Government's 2011 to 2015 affordable housing program as the best way of building new homes."
Housing Boom
London home prices have risen 30 percent from 2012 to an average of 501,000 pounds as overseas buyers bought new luxury apartments and mansions and first-time buyers rushed to acquire homes as values soared. That stimulated homebuilding and rising construction costs because of a shortage of labor and higher prices for materials including bricks.
"Embarking on any major publicly funded house building drive at the moment in London will only further stoke build-cost inflation," Farmer said. "It is a sad reality."
Before it's here, it's on the Bloomberg Terminal.
LEARN MORE