How Come the President Never Talks About My Rent?
More Americans are renting than at any time in the past 20 years
By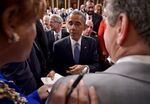 It's a sign that the housing market has largely mended that Barack Obama barely mentioned homeownership in his penultimate State of the Union address Tuesday night, as he did at least 16 times in his previous six State of the Unions. The president did take the opportunity to tell the story of a couple from Minnesota who struggled through the recession and succeeded, finally, in buying their first home.