Ukrainian Deaths Surge as Merkel Sharpens Rhetoric on Russia
Daryna Krasnolutska and Rainer Buergin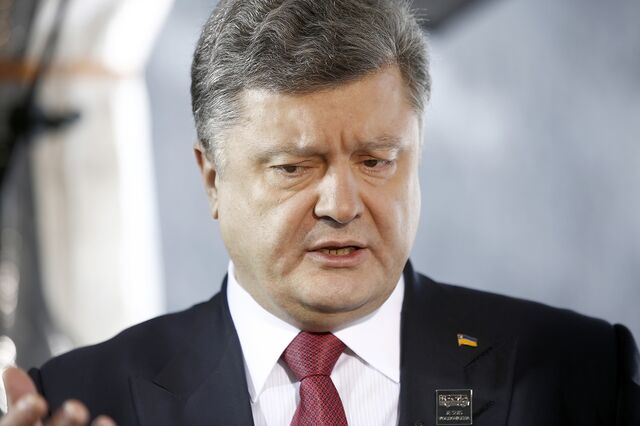 German Chancellor Angela Merkel slammed Russia for undermining neighboring Ukraine's sovereignty and cited "many setbacks" in peace efforts as the death toll in the conflict jumped.
As Ukraine's army suffered its worst casualties in two weeks, an attack Thursday in Donetsk killed eight civilians and the government accused its pro-Russian adversaries of ignoring a diplomatic push to withdraw heavy weaponry. Merkel said Russia's annexation of Crimea can't be allowed to pass and sanctions should remain. NATO said violence is at pre-truce levels.
"Both sides want to improve their bargaining positions for serious negotiations on the future" of eastern Ukraine, Stefan Meister, an analyst at the German Council of Foreign Relations, said by phone from Berlin. "I'm afraid they don't really have it under control and are starting a spiral of violence."
Fighting has intensified since a previous round of negotiations collapsed last week and Ukrainian President Petro Poroshenko warned in a Bloomberg Television interview of a "grave danger" of escalation. Ukraine and its allies in the U.S. and the European Union blame Russia for arming and aiding the rebels, while Russia accuses the government in Kiev of a military onslaught against its own citizens.
The conflict has sent Russia-U.S. ties to their worst since the Cold War. More than 5,000 people have died, the Organization for Security and Cooperation in Europe estimates.
Bonds Decline
Ukrainian 2017 dollar debt gained 0.6 cents to 54.5 cents on the dollar, data compiled by Bloomberg show. The government will approach bondholders to negotiate more favorable terms after talks with the International Monetary Fund over aid to top up a $17 billion rescue, Finance Minister Natalie Jaresko said Wednesday in an interview in Davos, Switzerland.
Ten servicemen died in the past day as troops pulled back from the Donetsk airport, an epicenter of clashes, the military said Thursday. After leaving the ruined terminals, the army said it still controls parts of the facility, where fighting continues. Sixteen wounded servicemen were taken captive, according to the military. One was paraded in Donetsk and beaten by onlookers, according to rebel footage on YouTube.
In Donetsk, the conflict zone's biggest city, passengers at a bus stop were killed by mortar fire. The strike, which also wounded seven people, happened between 8 a.m. and 9 a.m., according to the Donetsk regional government. Each side blamed the other for the attack. Russian state television showed images of bodies near a blown-out trolleybus.
'Small Progress'
Russian Foreign Minister Sergey Lavrov said talks with his Ukrainian, German and French counterparts in Berlin won a consensus to remove artillery from the 10-month conflict's front lines. Germany's Frank-Walter Steinmeier said Russia had agreed to "exercise the necessary influence" on the separatists, and that progress may bring a summit in Kazakhstan between the four nations' leaders "one step closer."
The rebels continue to fire artillery and Grad rockets at troops, Ukraine's Defense Ministry said Thursday morning. Poroshenko reported tank battles in the evening. Merkel said there was "small progress" at the talks, though criticized Russia for breaching the principles of post-World War II European order by absorbing Crimea last March.
"The annexation of Crimea is a violation of something that has made up our peaceful coexistence, namely the protection of borders and territorial integrity," Merkel said in Davos.
'Land Grab'
Russia has more than 9,000 troops in Ukraine and 50,000 along the border, officials in Kiev said this week. While NATO's top military commander, Philip Breedlove, couldn't confirm those numbers, he said Thursday that Russian-backed forces had renewed their capabilities. Fighting has intensified to "essentially pre-standdown levels," he said in Brussels.
The conflict has deteriorated back into open war, Lithuanian President Dalia Grybauskaite said in an interview in Davos. U.S. Secretary of State John Kerry said Wednesday that the rebels are undertaking a "very blatant land grab."
Russia on Tuesday dismissed the notion its military is involved as "absolute nonsense."
Russia, Ukraine and the OSCE will hold further discussions in the near future on implementation of agreements, including the original Sept. 5 cease-fire signed in Minsk, Belarus, according to Steinmeier. The talks are testing the "limits of patience" of all participants, he said.
Before it's here, it's on the Bloomberg Terminal.
LEARN MORE