ECB Seeks to Inject 50 Billion Euros a Month Into Economy to Stave Off Deflation
Alessandro Speciale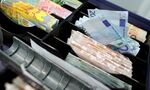 Mario Draghi called on the European Central Bank to make its biggest push yet to fend off deflation and revive the economy by unleashing a debt-buying spree of 1.1 trillion euros ($1.3 trillion).
The ECB president and his Executive Board proposed spending 50 billion euros a month through December 2016, two euro-area central-bank officials said. The plan still faces a tense debate in the Governing Council and may change before the final decision on Thursday, the people said, asking not to be identified as the talks are private. An ECB spokesman declined to comment.
By urging Fed-style quantitative easing, Draghi is remodeling the ECB as an aggressive central bank that will take risks even against the wishes of Germany, the region's biggest economy. Bundesbank President Jens Weidmann and Executive Board member Sabine Lautenschlaeger have argued QE isn't needed and reduces the incentive of governments to make structural reforms.
The proposal "looks larger than implied by the ECB's previous comments about the size of its balance sheet," said Riccardo Barbieri Hermitte, chief European economist at Mizuho International Plc in London. "A lot will depend on the risk-sharing features of the program."
Press Conference
Draghi's intention is to expand the ECB's balance sheet to the level seen in early 2012, or about 3 trillion euros. While the central bank has assets of about 2.2 trillion euros currently, that may shrink as 200 billion euros of outstanding long-term loans mature in coming weeks.
The ECB chief is scheduled to hold a press conference at 2:30 p.m. in Frankfurt on Thursday to announce the Governing Council's decision.
The council's debate will be complicated by arguments over whether the risks incurred in the new bond-buying plan should be shared across the region's 19 central banks or kept within national boundaries. Dutch central-bank Governor Klaas Knot has said any decision to mutualize risk should be taken by elected politicians, not unelected central bankers.
The tension over that issue surfaced this week at a conference in Dublin. Irish Finance Minister Michael Noonan said having national central banks buy government bonds would be "ineffective" -- drawing a response from ECB Executive Board member Benoit Coeure.
'Magic Wand'
"The discussion is how to design it in a way that works, in a way that makes sense," Coeure said. "If this is a discussion about how best to pool sovereign risk in Europe, and how to make the pooling of sovereign risk take a step forward in an environment where the governments themselves have decided not to do it, then this is not the right discussion."
Governors must also decide what assets to buy. While the program is likely to focus on government debt, other assets such as corporate bonds are under discussion, one of the people said. Purchases won't start before March 1, the person said.
"We need the ECB to do more and we need the ECB to decide tomorrow," Jean-Claude Trichet, Draghi's predecessor, said in an interview broadcast on CNBC today. "But to think the ECB has a magic wand and will change all the situation in Europe by its magic wand, in my opinion is not the appropriate reasoning."
Before it's here, it's on the Bloomberg Terminal.
LEARN MORE