The UN Wants Another $1 Billion to Fight Ebola
Simeon Bennett and Makiko Kitamura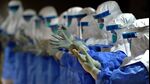 Ebola remains a global health emergency, the United Nations said today as it sought another $1 billion in donations to fight the deadly outbreak in West Africa.
More money is needed for the World Health Organization, Unicef and the World Food Programme, David Nabarro, the UN's special envoy for Ebola, said at a briefing today at the World Economic Forum annual meeting in Davos, Switzerland.
"We can't let down our guard," Tom Frieden, director of the U.S. Centers for Disease Control and Prevention, said in a Bloomberg Television interview at Davos. "We have to get over the finish line and then learn from this experience to build better systems so that it doesn't get out of control the next time" an infectious disease epidemic occurs.
The Ebola outbreak, which has infected more than 21,000 people and killed about 8,400, has started to "turn" as efforts to identify cases and make burials safer bear fruit, Nabarro said. While that has resulted in some empty beds at treatment centers, containment must be sustained, said Peter Piot, a co-discoverer of the virus and director of the London School of Hygiene and Tropical Medicine.
"Don't be fooled," Piot said today at Davos. "It's not over yet."
The epidemic can be reignited by any individual case, requiring the UN and partners to deploy hundreds of "disease detectives" to track down people who are infected, Nabarro said.
Tough Geography
The workers will need "to go to every single nook and cranny and find people who've got Ebola or are suspected of having it, and bring them into treatment quickly," he said. The additional funding is necessary to cover a geographic region "that is bigger than the British Isles and only slightly smaller than France."
The CDC, which isn't a UN agency, has more than "210 of our top disease detectives in West Africa helping to put out the fire," Frieden said.
In preparation for future epidemics, many countries need better networks to find outbreaks of disease, including improved reporting systems and lab networks, said Frieden. For Ebola, it's difficult work that "is within reach" with funding from the U.S., though more countries need to give in order to improve health systems beyond the Ebola-affected countries.
Frieden gave an example from Uganda, where the building of a national network for disease identification meant that several years ago, the infection of one girl with Ebola didn't lead to an outbreak. Infection control training at hospitals, a lab network, quick dissemination of test results and rapid isolation stopped the virus in its tracks, he said.
Public Neglect
In general, though, "public health strengthening has really been neglected," Frieden said.
Containment activities should now be intensified at the local level, said David Heymann, professor of infectious diseases at the London School of Hygiene and Tropical Medicine.
"The time has passed to try to coordinate things out of Geneva, or even out of capital cities in the countries where the outbreaks are occurring," Heymann said in a telephone interview. "It's now important that districts be empowered to do the job."
At the same time, global health responses must be strengthened, Frieden and Piot agreed at their Davos discussion.
The World Health Organization, which has been criticized widely for a slow response to Ebola, must develop the "capacity and courage to intervene" in emergencies, Piot said.
"There are countries on the right trajectory," said Jeremy Farrar, director of the Wellcome Trust, a U.K. charitable trust that funds medical research. "There is not a need to just throw everything out."
Before it's here, it's on the Bloomberg Terminal.
LEARN MORE