Draghi's Deflation Battle Seen Forcing Norway Rate Cut
Saleha Mohsin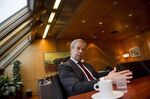 Further easing from the European Central Bank could trigger a rate cut in Norway in March.
As Mario Draghi prepares for bond-buying to keep deflation at bay and spur growth in the euro area, policy makers in Norway face a stronger currency and weaker inflation. That will put pressure on the central bank in Oslo to cut rates further to keep its own economy afloat amid a plunge in oil prices, according to Danske Bank A/S.
A 58 percent drop in Brent crude since a June high has pummeled the offshore industry in Norway, where oil and gas make up almost a quarter of gross domestic product. Over the same period, the krone has lost about 25 percent against the dollar and 6 percent against the euro.
"Early signs that oil prices may be close to a bottom, along with expectations of aggressive ECB easing" will strengthen the krone against the euro, said Arne Lohmann Rasmussen, chief analyst at Danske. Norway's central bank will respond by lowering its rate by 25 basis points to 1 percent in March and then leave it unchanged for the year, he said.
Bets on rate cuts in Norway have increased. Three-month forward-rate agreements maturing in June trade at 1.12 percent. They settle to the Norwegian interbank offered rate, which was at 1.38 percent yesterday. That suggests a 100 percent chance for a quarter point rate reduction.
The bank in December delivered a surprise rate cut, triggered by plunging crude prices. That, along with a warning of a 50-50 chance of another cut this year, sent the krone down to its lowest since 2009. The currency has since retraced those losses, adding to pressure to cut rates again.
Earlier Cut
"The stronger the krone develops going forward, the more this points to an earlier rate cut," said Kjersti Haugland, an analyst at DNB ASA.
Brent crude will need to trade above $70 a barrel before pressure on monetary policy abates, Norges Bank Governor Oeystein Olsen said in a Dec. 12 interview. Since then, the price of oil has dropped 21 percent.
Unlike large swaths of Europe, Norway isn't battling deflation. Underlying consumer prices gained 2.4 percent in December, close to the bank's 2.5 percent target.
For now, nothing "dramatic" is happening to the economy, Olsen said Jan. 16. Those words were echoed that same day by Prime Minister Erna Solberg after she convened an emergency meeting with Olsen and the finance minister.
"If the economic situation requires it, we can react quickly," Solberg said.
Before it's here, it's on the Bloomberg Terminal.
LEARN MORE