Clash Bassist Simonon Trades Smashing Guitars for Oils
Richard Vines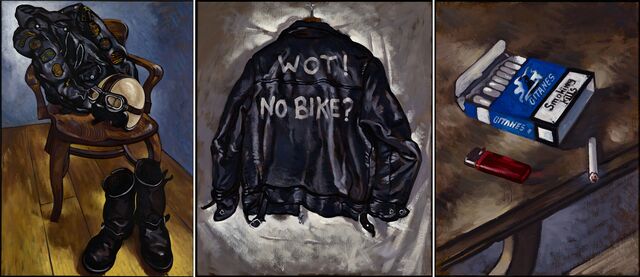 Paul Simonon is famous as the bassist of punk band The Clash, captured destroying his guitar on the cover of the album "London Calling."
It's a violent and angry image. So who is this cheeky chappy sitting in front of me, looking very relaxed as he lounges on a chair to discuss his exhibition of paintings that opens today at the Institute of Contemporary Arts in London?
"I was just frustrated," Simonon says of the photograph Pennie Smith took during a concert in New York in 1979. "The audience weren't allowed to stand up and the bouncers were dealing with people in an aggressive way. Also, the sound wasn't very good. So this combination of things made me respond in the way that I did, which was to smash my own things up.
''It's not a common thing that I did. It wasn't my favorite guitar, but it sounded much better than the spare I had. So I had to play the rest of the tour with one that was a bit thin and didn't have any weight, but you always end up destroying the things you love, I guess."
Simonon, 59, a former art student, now spends most of his time painting, when he likes to listen to the hum of the traffic outside. It's a solitary activity, far removed from the noise and crowds when he played in the Clash. The punk band's singer, Joe Strummer, who was a friend, died in in 2002.
Jacket Trade
"That was Joe's jacket," Simonon says, pointing to a painting, "Wot No Bike." It's the name of the exhibition, which focuses on Simonon's personal effects, including biker paraphernalia such as jackets and helmets. "He came over to my house and I'd done a painting of washing up in the sink.
''He was so taken with it he said, 'Paul, I really like that picture. Do you want to do a trade?' And I was looking at it and I was looking at his jacket and I said, 'I like your jacket.' So he took the painting and went home slightly colder than he was and I had the jacket. Who got the better deal? I don't know."
He says he is influenced by many artists, including Frank Auerbach and Leon Kossoff as well as Lucian Freud, whom he met before Freud's death in 2011. His works also reflect the Spanish artists he studied in the Prado while in Spain to paint a series of pictures of bullfights.
Simonon is entertaining company, joking and relaxed, even amused when I mistakenly call the Clash's most famous album "London's Burning" rather than "London Calling."
Active Musician
"You almost got me going there," he says, and laughs.
Simonon is still active as a musician and collaborated with Damon Albarn in 2006 on the album, "The Good, the Bad & the Queen." He's listening to a lot of Serge Gainsbourg these days.
Several musicians, including fellow British bassist Horace Panter of the Specials, have taken up painting. What's the difference between being a painter and a musician?
"When you're with a band, it's collaboration, it's people working together," he says. "So you might have an idea, or somebody else might have an idea, and through a journey of trying things out, it evolves to become something else.
''But with painting, you start from the beginning and you end at the end on your own. So you have to make the decision, 'Does this work or does it not?' And if it doesn't work, you paint over it and do another picture and try and go forward with what you're trying to explore. You've only got yourself to deal with, which can be traumatic at times."
Which process does he prefer?
"I like them both. I guess we're all complex people and sometimes it's nice to get away from people and other times it's nice to be with people, so it works both ways really."
"Wot No Bike" is at the ICA from Jan. 21-Feb. 6. Information: https://www.ica.org.uk/join-support/ica-welcomes
(Richard Vines is the chief food critic for Bloomberg. Follow him on Twitter @richardvines)
Before it's here, it's on the Bloomberg Terminal.
LEARN MORE