politics
House Republicans Split on Rape Exception in Anti-Abortion Bill
Billy House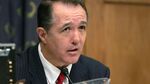 U.S. House Republican leaders are getting dissent from rank-and-file members over a measure to ban abortions after 20 weeks of pregnancy.
The dispute among Republicans, some of whom sought last-minute revisions Wednesday, focuses largely on the measure's language allowing exemptions for rape victims only if the attack was reported to police.
One lawmaker raising concerns was Renee Ellmers of North Carolina, who said of her party, "We should not be looking back in history, we should be looking forward."
Some Republicans also objected to the bill's exception allowing abortions for pregnancies caused by incest, which would apply to minors yet not for someone at the "age of majority."
"So, it would apply to a 16-year-old, not a 19-year-old," said Representative Charlie Dent of Pennsylvania, a co-chairman of a House caucus of self-described centrists, in an interview.
So intense were some of the discussions during a private meeting among House Republicans Wednesday that staff members were told to leave so members could talk more privately, Dent said.
The bill, H.R. 36, is scheduled for a vote Thursday, the anniversary of the Supreme Court's 1973 Roe v. Wade decision that legalized abortion nationwide. The legislation is sponsored by Representatives Trent Franks of Arizona and Marsha Blackburn of Tennessee.
House Passage
Franks, in an interview, predicted the measure will pass overwhelmingly in the House, as it has in the past. He said some members also raised concerns on the other end of the spectrum.
"There's some that want the exemptions taken out entirely; there's some that want some changes in the exemptions," Franks said. "We've tried to reach the consensus the best we can here and I don't know what more we can do."
The bill is mostly a messaging vehicle with little chance of Senate passage and no likelihood of being signed into law by President Barack Obama.
The Obama administration said Tuesday the president would veto the measure if it reached his desk.
"Women should be able to make their own choices about their bodies and their health care, and government should not inject itself into decisions best made between a woman and her doctor," according to the White House statement.
Before it's here, it's on the Bloomberg Terminal.
LEARN MORE