Andrew Cuomo's Very Own Women's Party
The governor invented the Women's Equality Party to win an election—but is it anything more than a website and phone number?
By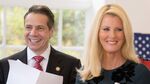 Governor Andrew Cuomo's political imagination has always been at its most fertile when it comes to covering his left flank. Cuomo, who gives New York's State of the State address on Wednesday afternoon in Albany, has already divulged a suite of liberal plans for the new year, like a property-tax break and an increase to the minimum wage. Last July, facing reelection, Cuomo founded the Women's Equality Party "as an answer to the assaults on the basic rights of women." Many on the left saw the move as cynical: a way to tap into on a moment of popular feminism while damaging the social democratic Working Families Party, a sort of heir to the American Labor Party that has found success as part of the "progressive wave" responsible for electing politicians like New York City Mayor Bill de Blasio and Massachusetts Senator Elizabeth Warren.