Unilever Sees No Improvement in 2015 as Sales Miss Estimates
Matthew Boyle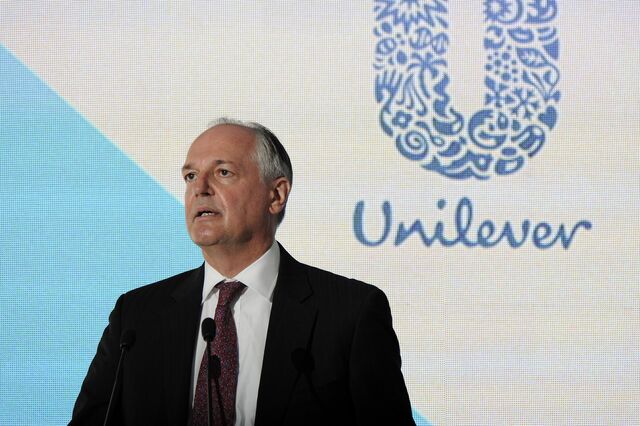 Unilever, whose detergents and deodorants are used by 2 billion consumers daily, said its financial performance in 2015 will be similar to last year amid weaker demand in emerging markets such as China.
Underlying sales advanced 2.9 percent last year, the London- and Rotterdam-based company said today, the worst performance in more than a decade. Growth slowed to 2.1 percent in the final three months of the year, trailing analyst estimates, as consumers bought less of the company's personal-care and food products.
"We do not plan on a significant improvement in market conditions in 2015," Chief Executive Officer Paul Polman said in a statement. The first quarter will be "softer," with growth improving as the year goes on, he said.
The maker of Axe body sprays has seen sales growth slip as demand for its soaps and shampoos has weakened in emerging markets, particularly China, where big retailers have run down inventories of Unilever products, leading to a sales decline of about 20 percent. The company is also splitting its U.S. and European spreads operations into a standalone unit this year.
Unilever fell as much as 2.6 percent in early Amsterdam trading and was down 1.5 percent at 34.26 euros at 9:08 a.m., cutting the gain over the past 12 months to 18 percent.
Higher Margins
The results statement was notable for the absence of a forecast of market-beating growth.
"We have come to expect commitment to growth ahead of the company's markets and core operating margin improvement," said James Edwardes Jones, an analyst at RBC Capital Markets.
Chief Financial Officer Jean-Marc Huet said in a phone interview that the company does plan to grow sales at a faster pace than the broader markets, and "maybe we could have and should have" said so in the results statement.
Unilever's operating margin improved 0.4 percentage point to 14.5 percent last year as the company reined in spending on advertising and head office costs.
"While a margin beat is to be welcomed, to our mind this is more than countered by the sluggish fourth-quarter top-line and lackluster guidance for full-year 2015," Jeff Stent, an analyst at Exane BNP Paribas, said in a note.
Net income at the maker of Dove skincare products and Knorr soups increased 15 percent to 5.17 billion euros ($6 billion) in 2014, compared with the 5.16 billion-euro average estimate of 19 analysts compiled by Bloomberg.
The personal-care market is now growing at about 3 percent globally, a decline from 4 percent last year, Huet said. About two-thirds of Unilever's personal-care sales are in emerging markets, where sales rose 4.1 percent in the quarter, about half the pace seen two years ago. The last time Unilever's quarterly volumes were negative in personal care was the first quarter of 2009.
Huet said he "hopes" to "ramp up" acquisitions in 2015, using the company's 3.1 billion euros of free cash flow.
Before it's here, it's on the Bloomberg Terminal.
LEARN MORE