Tone Grant, Refco Ex-President Serving 10 Years, Dies
David Glovin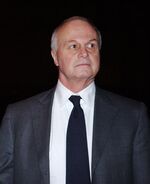 Former Refco Group Ltd. President Tone Grant, a decorated U.S. Marine Corps veteran who was serving a 10-year prison sentence for defrauding investors of $2.4 billion in an eight-year accounting scheme, has died. He was 70.
Grant died Jan. 18 at the federal medical center in Rochester, Minnesota, according to Chris Burke, a spokesman for the U.S. Bureau of Prisons. Burke declined to comment on the cause of death. Grant was scheduled to be released from prison in July 2017.
"Tone was a man of great dignity and compassion," his lawyer, Roger Zuckerman, said in an e-mail today. "He was a decorated Marine officer who saw combat in Vietnam, a fine athlete, a skilled lawyer and businessman, and most importantly a man who loved his family and his many friends deeply and without reservation. His health had been poor in recent years, but he met life and its challenges (including a conviction he regarded as manifestly unfair) stoically and with serenity."
Grant, a former Yale University quarterback, was convicted in April 2008 for what a federal judge said was his 'irreplaceable role'' in the Refco fraud. Once the biggest independent U.S. futures trader, New York-based Refco collapsed in 2005 two months after raising $670 million in an initial public offering.
Owed Refco
Refco Inc., as it was known after the IPO, filed for bankruptcy after disclosing that a firm owned by then-Chief Executive Officer Phillip Bennett owed Refco hundreds of millions of dollars. Bennett, who pleaded guilty and was sentenced to 16 years, is scheduled to be freed from prison in 2022.
Grant was raised in a two-bedroom apartment in Hyattsville, Maryland, and excelled in school as a student and athlete, according to a legal brief submitted to court before his 2008 sentencing. He later won a partial scholarship to Phillips Academy in Andover, Massachusetts, and, rejecting contract offers to play professional baseball, went to Yale.
After college, Grant opted for law school and joined the Marines. Rather that accept a "safe, stateside post," he volunteered to go to Vietnam as a military lawyer, his attorneys said.
Grant was awarded a combat action ribbon in Vietnam after being shot at as he investigated a case against fellow Marines accused of negligent homicide in a friendly-fire incident, his lawyers said. Based on the evidence he gathered, he won an acquittal for two Marines, the lawyers said.
Practiced Law
Grant practiced law after leaving the military, became general counsel of a Nashville, Tennessee-based bank, and joined Refco in 1980 as its top lawyer. At his trial, prosecutors said he and others helped Bennett defraud investors in 1997 by hiding tens of millions of dollars in customer trading losses as part of a plan to sell Refco at a price that would pay off debt and ensure them a profit.
The scheme ran from 1997, when Grant was president, to October 2005, a year after Refco sold a majority stake to Boston-based Thomas H. Lee Partners for $1.8 billion, prosecutors said. Grant was fired as Refco's president in 1999. He owned as much as 50 percent of the company before the buyout.
Bennett and Grant also lied to lenders and investors about whether the firm had a proprietary trading operation, inflated revenue and moved expenses off Refco's books, prosecutors said.
At his sentencing and later, Grant declared his innocence.
"I have always done everything in my life to respect the law," he said, citing his oaths as a lawyer and military officer. It is "a privilege to live in this country," he said.
Before it's here, it's on the Bloomberg Terminal.
LEARN MORE