Why the Supreme Court's Medicaid Decision Matters
State Medicaid programs often pay less than the cost of care. Should health-care providers be able to sue individual states for higher rates?
By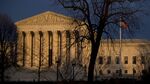 The Supreme Court is hearing arguments in a case that will have big consequences for how an estimated 68 million Americans get health care. More specifically, the case involves whether or not doctors and hospitals can sue states if they feel the rates they get paid by Medicaid, the public insurance program for low-income Americans, are too low.