Why the Supreme Court's Medicaid Decision Matters
State Medicaid programs often pay less than the cost of care. Should health-care providers be able to sue individual states for higher rates?
by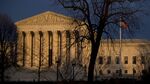 The Supreme Court is hearing arguments in a case that will have big consequences for how an estimated 68 million Americans get health care. More specifically, the case involves whether or not doctors and hospitals can sue states if they feel the rates they get paid by Medicaid, the public insurance program for low-income Americans, are too low.
State Medicaid programs typically pay poorly. On average, reimbursements are one-third lower than those for Medicare, the federal health insurance for older Americans, according to the Kaiser Family Foundation. Both pay less than commercial health plans. And that's a growing challenge for providers: The Affordable Care Act (ACA) widened eligibility for Medicaid to cover more low-income adults, adding 9.7 million people to the program since 2013.
Many doctors won't take Medicaid patients; those that do often lose money seeing them. If health-care providers think the rates are too low, or that states have cut Medicaid budgets unjustly, they sometimes take the states to court on grounds they're violating the federal law requiring Medicaid to provide adequate coverage. That's the origin of the current case before the high court, Armstrong v. Exceptional Child Center.
A group of companies that provide services for developmentally disabled Medicaid patients sued Idaho officials when they failed to increase Medicaid payments, even after the state calculated a new method for compensating providers. An appellate court upheld a judgment in favor of the providers last year, noting (PDF) that Idaho had conceded that it held rates flat since 2006 for "purely budgetary reasons."

Idaho is asking the Supreme Court to decide whether providers have any right to challenge rates, or if that power is limited to the federal government when it approves states' Medicaid plans. The legal question rests on whether the health-care providers have a right to sue under the supremacy clause of the Constitution, which says that federal law takes precedence over state law.
The last time the court considered that question, in a 2012 case out of California called Douglas v. Independent Living, a narrow majority sent the case back to a lower court without clearly affirming or negating the right to sue. But the four conservative justices argued in a dissent that, without explicit language from Congress saying that such a right exists, private parties couldn't challenge Medicaid fees. Justice Anthony Kennedy is probably the swing vote that could decide the issue this time.
States are lining up in favor of shutting down such lawsuits. The National Governors Association (PDF) and 27 states that include Texas, Florida, Colorado, Maryland, Ohio, and Pennsylvania filed briefs (PDF) in support of Idaho. So did the federal government(PDF). In a sign of how strongly the Obama administration would like to curb challenges to Medicaid rates, solicitor general Donald Verrilli—the Obama administration's top litigator—asked the court for permission to participate in oral arguments, even though no federal agency is a party to the suit.
It's not hard to see why: Medicaid spending totaled $450 billion in 2013, and more than half of that comes from the federal government. The rest comes from states, and it's a big expense, averaging about 16 percent (PDF) of their budgets. 
Health-care providers, some Congressional Democrats, and advocates for patients are asking the court to affirm the right to challenge Medicaid fees. An amicus brief by former Medicaid officials argues that providers not only have the right to challenge paltry Medicaid rates but a responsibility because the agency itself isn't up to the task of policing state programs to make sure they're paying adequately. The federal Medicaid agency "lacks the logistical and financial resources necessary to be the exclusive enforcer of the equal access mandate, and it is highly unlikely to receive the necessary resources in the future," the officials wrote (PDF).
Mark Gallant, an attorney at Cozen O'Connor who represents Medicaid providers, says Washington has little incentive to press states to pay more because the federal government provides more than half of Medicaid money. Without outside pressure, Gallant said, "states get to ratchet down the rates as much as they want." Hospitals can't turn people away at emergency rooms, so their costs of treating Medicaid patients are reflected in higher charges for wealthier people on private health plans. Doctors, however, can just drop out of the program, leaving a growing population of Medicaid patients with a dwindling number of options.
Before it's here, it's on the Bloomberg Terminal.
LEARN MORE