Sweden Cuts GDP Forecast as Deficit Seen Stretching Past 2018
Johan Carlstrom and Amanda Billner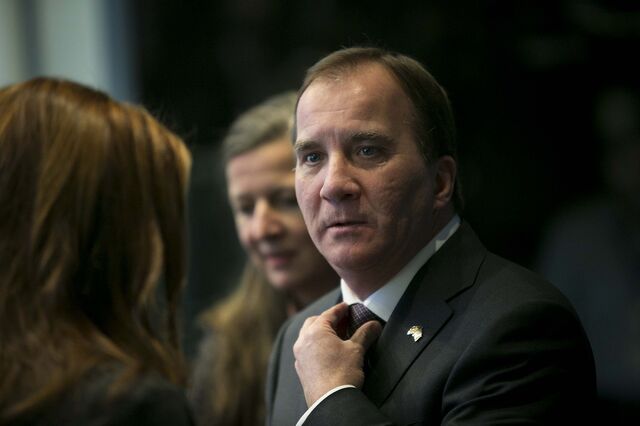 Sweden's government cut its economic growth forecasts and predicted it will fail to reach a budget surplus over the next four years.
The economy will expand 2.4 percent this year and 2.7 percent in 2016, the Finance Ministry said Tuesday in Stockholm. That's down from the 3 percent and 3.2 percent, respectively, the government predicted in October, after ending an eight-year rule by Prime Minister Fredrik Reinfeldt.
"Given the public finance deficits, there's no scope for extravagances, but at the same time we have to nurture the recovery," Finance Minister Magdalena Andersson said in a statement. "The recovery has proven to be a marathon rather than a 100-meter dash. It is therefore important to keep something in reserve."
Sweden, which exports about half its output, is suffering from weak demand from its largest trading partners. The International Monetary Fund today made the steepest cut to its global growth outlook in three years as it predicted slower growth in almost all regions except the U.S. Sweden exports most of its goods to the euro area, which the IMF predicted will grow just 1.2 percent this year.
The Swedish government now forecasts unemployment will average 7.7 percent this year and 7.4 in 2016 compared with forecasts of 7.3 percent and 6.7 percent in October. It won't return public finances to a surplus during the next four years, predicting deficits of 1.3 percent this year and 0.6 percent next year.
The minority government, headed by Prime Minister Stefan Loefven's Social Democrats, has so far been stymied in enacting its economic agenda of tax increases and public sector investments to create more jobs. The coalition in December failed to pass its own budget amid opposition from the anti-immigration Sweden Democrats. Loefven then struck an accord with the center-right opposition that will allow him to pass budgets over the next four years, avoiding a snap election.
Sweden's central bank last year cut its main rate to zero after months of deflation. The government today predicted consumer prices will rise 0.3 percent this year and 1.4 in 2016.
Before it's here, it's on the Bloomberg Terminal.
LEARN MORE