Sri Lanka Looks to IMF for Help as Debt Burden Climbs
Asantha Sirimanne and Anusha Ondaatjie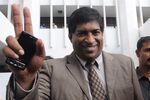 Sri Lanka's two-week-old government plans to start discussions with the International Monetary Fund on reducing a debt burden that grew under the previous administration, Finance Minister Ravi Karunanayake said.
Karunanayake, who will meet IMF officials today, said in an interview late yesterday that President Maithripala Sirisena wanted to reduce interest costs on the island nation's 7.2 trillion rupees ($55 billion) in total debt. He ended Mahinda Rajapaksa's 10-year rule in a Jan. 8 election.
"We are initiating discussions on a new program," Karunanayake, 51, said in his Colombo office yesterday. He declined to give further details, only saying that "we will not be dictated to by any of these multilateral agencies."
Sirisena is seeking to clean up Sri Lanka's finances and review the nation's growing ties with China, which has provided funding for large infrastructure projects. He plans to maintain fiscal discipline and eliminate corruption while taxing the "super rich" to benefit the poor, Karunanayake said.
About 40 percent of government revenues go to repaying interest on borrowings, one of the highest among countries rated by Moody's Investors Service. Sri Lanka's debt burden of 78 percent of gross domestic product also remains higher than similarly rated peers such as Vietnam and Kenya, in which the median is 41 percent of GDP, the company said this month.
Sirisena is reviewing all investment projects to ensure that they are done at a cheaper cost, Karunanayake said. That includes several China-backed projects, he said, adding that Sirisena and others have been in touch with Chinese President Xi Jinping over the investments.
China Review
China became Sri Lanka's largest investor, top government lender and second-biggest trading partner under Rajapaksa. Projects include a proposed $1.4 billion complex the size of Monaco on reclaimed land in Colombo port.
"What we are telling the Chinese is nobody is prevented from doing projects here," Karunanayake said. "But basically we cannot be told to endorse projects where costs are inflated."
Sri Lanka is seeking to expand trade ties with the European Union, Karunanayake said. The bloc denied the island nation preferential trade access in 2010 due to human rights abuses during a 26-year civil war.
The EU's proportion of Sri Lanka's total trade fell to 14 percent in 2013 from 23 percent a decade earlier, while China's grew to 12 percent from 3 percent in that time, data compiled by Bloomberg show.
'Real Situation'
Sri Lanka last turned to the IMF after the civil war ended in 2009 to bolster its international reserves. It received the final tranche of a $2.6 billion IMF loan in 2012.
The IMF projected that Sri Lanka's $67 billion economy would grow 6.5 percent in 2015, compared with 7 percent the previous year. It had averaged more than 7 percent growth since 2009, one of the fastest rates in South Asia.
Karunanayake, a former Sri Lankan commerce minister, said the finance ministry was also "collating the real situation" on Sri Lanka's gross domestic product and debt. He had previously served in the cabinet in 2001 under a government led by the United National Party, the largest in Sirisena's disparate coalition.
Karunanayake is scheduled on Jan. 29 to announce an interim budget that's in line with Sirisena's campaign pledges. The president is expected to dissolve the current parliament in April and call for general elections.
Budget Deficit
Sirisena's backers, including free-market capitalists, hard-line Buddhist parties and the island's main Tamil and Muslim groupings, may prompt changes in fiscal and economic policies that could erode Sri Lanka's credit standing, Standard & Poor's said after the vote.
"The overall budget deficit will not be increased," Karunanayake said. "We will not burden the people. We are reducing costs, eradicating corruption."
He said the government hasn't decided yet on whether to privatize more companies, a policy endorsed by Prime Minister Ranil Wickremesinghe during two previous stints in the role.
"We will have a transparent environment for foreign investors," Karunanayake said. "We will maintain macro-economic fundamentals conducive for investors."
Related News and Information: Former Sri Lanka President Denies Early-Morning Coup Attempt
Before it's here, it's on the Bloomberg Terminal.
LEARN MORE