Panerai Makes $19,500 Watch From a New Carbon-Fiber Composite
A classic shape in a brand new material
By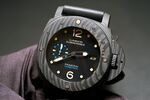 The last few years Panerai has been pushing hard to put in-house movements into more and more of its watches. The watch we have here is indeed powered by Panerai mechanics, but it's what's on the outside that's new and exciting. The PAM 616's Luminor-style case is made of Carbotech, a carbon fiber composite that has never been used in watchmaking before. Tragic name aside, the material is a great fit for large, military-inspired watches and is a valuable addition to Panerai's arsenal.
The PAM 616's full name is the Luminor Submersible 1950 Carbotech. "Carbotech" might sound like some sort of strange proprietary material shrouded in marketing smoke, but it's actually a pretty straightforward composite. Layers of carbon fiber are stacked on top of one another and bound with a polymer (polyether ether ketone, if you really need to know) to form a hunk of the material. From there, the solid blocks can be cut and shaped, though they're much more difficult to work than something like gold or even steel.

Right from the start, the shape of the PAM 616's case is eye-catching. It's exactly the same shape as previous Luminor Submersible 1950 models, which itself is an accomplishment considering the materials must be handled in completely different ways to achieve the shape. The matte black is the natural color of Carbotech; unlike a metal it can't take different satin and polished finishes. The surface all has irregular tonal wave patterns, a result of the layers of carbon showing through. It's a cool effect that doesn't scream "I'm wearing a carbon fiber watch!" at passers by. 
Finishing things off are a black rubber strap with a bright blue "OP" logo (short for Officine Panerai) that matches the blue accents on the dial. It's a really bright shade of blue and adds a little levity to what could otherwise be a very sober piece. This might be a technical watch, but it's got its quirks too.

Inside the PAM 616 is the P.9000 movement, one of Panerai's entry level in-house movements. It's automatic and features a 72-hour power reserve, making it a great workhorse. It's good to see Panerai really leveraging these in-house movements in watches that even a few years ago would have been produced with inexpensive movements from external suppliers. Just because a watch isn't a fancy platinum chronograph doesn't mean it shouldn't have a respectable movement inside.

Devotees of carbon fiber watches will of course love this new rendition, but its different enough from the usual racecar-and-rocket-ship models you see in the material that it could draw in a broader audience as well. Of course, it's a Panerai, so if you're not willing to strap on a 47mm watch, you're out of luck here. But at least the Carbotech mid-case with titanium insert and caseback mean that even at this size the watch doesn't feel like an anchor weighing down your wrist.
The Panerai Luminor Submersible 1950 Carbotech (PAM 616) is a limited edition of only 500 pieces. Currently it is priced at $19,500, though this could change before the watches start hitting retailers in October.
 Stephen Pulvirent is in Geneva at SIHH, and will be posting dispatches on the watch world all week.
Before it's here, it's on the Bloomberg Terminal.
LEARN MORE