Obama's Social State of the Union
In the age of new media, the president and his team are trying to innovate to keep one of the country's oldest traditions relevant.
By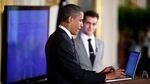 Two weeks after the Paris terrorism attacks, in the opening days of a new Congress where Republicans control both chambers and are moving to reshape domestic policy, why has the White House used the lead-up to President Barack Obama's State of the Union address to promote his post-speech interviews with luminaries such as Bethany Mota, a 19-year-old YouTube celebrity who became famous for showing strangers her fashion and beauty buys online?
Why has Obama given away so much about the speech by rolling out proposals weeks ahead of it? What happened to the bully pulpit? What would George Washington think?
To understand the White House's unorthodox approach to this year's installment of the once-vaunted annual address presidents give to Congress and the American people, start with last year's Nielsen numbers: 33.3 million viewers, the lowest since 2000, when the U.S. population was considerably smaller than it is today; and a combined household rating of 21.8, the lowest in two decades.
It is partly a reflection of the political truism that Americans care a lot more about what a new president has to say than a president deep into his second term, unless war or impeachment is on the table. In 2009, the year Obama took office, his joint address to Congress had 52 million viewers, compared with President George W. Bush's 37.5 million viewers in his final State of the Union speech. 
The approach also reflects the shifting media landscape, in which Americans, especially younger ones, get information less in big chunks from centralized sources and more in fragments from social media and non-traditional news sources.
"The mainstream media still matters a great deal, but you can't just do that anymore," said White House communications director Jennifer Palmieri. "You have to work harder to reach a larger audience. It's so disaggregated that you have to put more effort into it. The good news is there's ways to reach people who really care about a particular issue."
Discussions about how to reach a broader and deeper audience this year through non-traditional and social media began six months ago, Palmieri said. "We're trying to make sure as many Americans know about his proposals as possible," she said. "And you have to make sure that people who really care about a particular issue know what his proposals are and what he's done."
The stakes are high—and the challenges plentiful. Tuesday night's address will set the pace for the seventh year of Obama's presidency. Republicans don't appear any more likely to embrace Democratic priorities—including paid family leave, minimum-wage increases, or plans to make wealthy Americans and businesses pay more taxes—now than when the GOP only controlled the House of Representatives.
The president and speechwriter Cody Keenan began work on Obama's speech in December while en route to Hawaii, where the Obama family takes an annual vacation. Aides agreed on a strategy to roll out initiatives ahead of the speech as a way to get more exposure for each one.
Aides said the speech will hew to tradition in the sense that Obama will address Congress, mix domestic and foreign policy proposals, and mix initiatives that require Congress' action and those he will pursue through executive power. But the White House also is planning to expand its outreach during the speech with enhanced videos, graphics, and interactive capabilities for those watching online, and by coordinating with advocacy groups to tweet and post information about individual initiatives.

On Wednesday, Obama will embark on a customary post-speech road trip to highlight his initiatives. By picking university campuses in two red states—Idaho, where he appeared as a candidate in 2008 but never as president, and Kansas—he is aiming to send a message that he is focused on young people in the heartland as well as in big cities and liberal bastions, and that he is not ceding swaths of the country to Republicans in his last two years in office.
When he gets back to the White House on Thursday, he will reinforce that theme of youth engagement when he sits for his interviews with three YouTube stars: Mota, the anti-bullying fashionista, who is Hispanic and has a homeschooling background; Hank Green, a video engagement entrepreneur who also does educational programming and has a friendly nerd-next-door persona; and GloZell, a pioneering 52-year-old comedian with a big audience.
In the weeks leading up to the address, Obama and his aides have announced or previewed plans to expand broadband access, make the first two years of community college free, bolster cybersecurity, lower federally issued mortgage rates, try to expand paid family medical leave, and cut methane emissions from oil and gas sectors by a much as 45 percent by the year 2025. 
On the foreign-affairs front, Obama used a press conference on Friday with U.K. Prime Minister David Cameron to preview another plan that just a few years ago might have been saved for the State of the Union: a veto threat on any new Iran sanctions while nuclear negotiations are ongoing. On Tuesday, he also may discuss threats from the Islamic State and other terrorism groups; Russian aggression; and the end of combat operations in Afghanistan. 
His unilateral moves late last year to halt deportations and force Republicans' hand on immigration reform, tackle climate change in partnership with China, and move toward normalizing relations with Cuba already have signaled his increased willingness to move on foreign policy without Congress in the final stretch of his presidency.
All of it is important to Obama and none of it is a surprise, leading back to the White House's Web strategy.
The White House used Facebook to announce Obama's plan to make the first two years of community college free for many students, breaking its own record for video views on the site with more than 8 million. Upworthy became the vehicle for news about Obama's broadband plans. LinkedIn was how senior adviser Valerie Jarrett announced the paid-family leave plan. Medium was where senior adviser Dan Pfeiffer previewed Obama's State of the Union strategy. And the White House announced a call for input to put together a citizen memo to the president.
A YouTube spokeswoman declined to make anyone available to talk about Obama's State of the Union strategy until after Thursday's interviews, but pointed to the site's vast reach: It gets 1 billion unique visitors each month and, as of last May, was reaching more viewers in the 18-34 category than any cable network. Maybe that's why the president chose to post a video preview of the speech on the site. 
"You never get completely used to it," Obama said in a teaser for the speech uploaded to YouTube and WhiteHouse.gov on Monday. "The sergeant-at-arms announces you and you are walking down that aisle. You're reminded of the incredible privilege you have in being president."
As for the three people who will interview the president: Green and his brother John launched the online video conference VidCon and the Project for Awesome and have more than 7 million subscribers across several sites. Mota's YouTube channel, founded in 2010, has 8 million followers and about 2 million view a day, according to the site. GloZell is YouTube's most-followed black creator and has ties to two key political constituencies: teachers (she is the daughter of one) and veterans (she is married to one).
Palmieri summed up their collective appeal to the president at the dais: "These people have a huge following."
—Annie Linskey contributed to this article.