Mike Huckabee Takes His War on Beyonce to The Daily Show
Jon Stewart defends the singer's honor.
By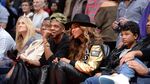 If Mike Huckabee's book tour for God, Gun, Grits and Gravy was meant to advance the culture war, it's been working. Early readers of the book focused on an early section about "the culture of crude," and how Huckabee criticized the Obama family for being "BFFs" with Jay Z and Beyonce. "With the First Lady so concerned about making sure her daughters' bellies don't ingest unhealthy food," he wrote, "how can she let their brains ingest obnoxious and toxic mental poison in the form of song lyrics?"
The former Arkansas governor had come a long way from his breakout book, Quit Digging Your Grave With a Knife and Fork, which was promoted at events that even included Bill Clinton. The Republican was all in on the war on "crudeness," and his subsequent talks about the Beyonce stuff launched a thousand think-pieces. "Why Beyonce's feminism scares Huckabee," wrote CNN columnist Carl Costello. (Huckabee had said nothing about feminism.) "Mike Huckabee's stupid, racist attack on Jay-Z and Beyonce," wrote Alyssa Rosenberg in the Washington Post.
The great Huck-Bey war was a boon to the Internet Content industry. Huckabee had no problem with that. Last night he stopped by The Daily Show, where he went full-on culture war, restating the central idea of his book that a "bubble" of elitists doesn't understand the "bubbas" of the real America. (The idea is at least as old as Spiro Agnew's vice presidency.) Huckabee even got in a dig at the secretary of state's infamous affinity for France: "I would say au contraire, to quote John Kerry."
But Stewart really dug on on the Beyonce material. "Young girls want to be like her," said Huckabee. "Do you know any parent who has a daughter, that says, 'Honey, if you make really good grades, some day when you're 12 or 13 we'll get you your own stripper pole?'"
"I think that's diminishing to Beyonce in a way that's outrageous," said Stewart. "All this stuff about the culture, and it's so insidious—you don't have to do that."
That was Stewart's cue to play a clip from Huckabee's recently ended Fox News show, where the erstwhile presidential candidate accompanied Ted Nugent on a rendition of "Cat Scratch Fever," a typically unsubtle Nugent love song.
"You excuse of his type of crudeness because you agree with his stance on firearms," said Stewart. "You don't excuse Beyonce because she seems alien to you. Maybe the problem is Bubba is in a bubble."
Huckabee was ready for this. (He should have been; the "what about Nugent?" counterattack is almost a cliche.)
"When Ted Nugent did that song, 1978, never got nominated for Grammy, never performed it on national television," said Huckabee. "In fact, do you know what the song of the year was? It was a tie between 'Evergreen' and 'You Light Up My Life' and John Denver hosted the Grammys."
That was nearly the end of it. "You can't single out a corrosive culture and ignore the one that you live in because you're used to it," said Stewart. After Huckabee moved to another form of elite-bashing—"I did not write this for the Harvard faculty"—the two moved on.
One day earlier, at a Tea Party conference in South Carolina, Huckabee's possible 2016 rival Rick Santorum was asked what he made of the Beyonce-Huck tiff.
"That's why I got in the movie business, I'm tired of blaming the other side," he told MSNBC's Benjy Sarlin. "It's not the other side's fault. It's our fault by not providing good quality alternatives."