Junk Replaces Government Debt as Most-Disdained in Investor Poll
Sridhar Natarajan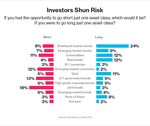 Junk bonds have supplanted sovereign debt as the asset investors would most like to bet against amid concern that a slowdown in global economic expansion will make it harder for the world's neediest borrowers to meet their obligations.
With both the International Monetary Fund and World Bank lowering their world growth forecast this month, 18 percent of the respondents to a quarterly Bloomberg Global Poll chose speculative-grade debt as the favored asset class to short, or set up trades that would profit from a decline in prices, given the chance. That exceeds the 13 percent that would bet against government securities from the Group of Seven nations.
Money managers are striking a more cautious tone toward bonds of the riskiest borrowers as the Federal Reserve moves closer to raising interest rates from near zero and away from extraordinary monetary policies that fueled the market's growth. The IMF trimmed its global-growth outlook on Jan. 19 by the most in three years.
"If this ends up as a bad year for the economy, that would be very negative for high yield and you could see people running out of the sector," Mario Cribari, the head of asset management at Lugano, Switzerland-based Veco Invest SA, said in a telephone interview. Cribari, who participated in the poll, picked high-yield, high-risk bonds as the asset class he'd short.
Big Gains
The survey of 481 Bloomberg subscribers was conducted Jan. 14-15 by Selzer & Co., a Des Moines, Iowa-based firm. It has a margin of error of plus or minus 4.5 percentage points.
In the previous survey conducted in November, 20 percent of the respondents picked government bonds sold by the G-7 countries as securities they'd most like to short, with 17 percent selecting junk-rated securities. That debt is rated below Baa3 by Moody's Investors Service and less than BBB- at Standard & Poor's.
Between February 2009 and mid-2014, the $2.1 trillion market for junk bonds returned about 135 percent, according to the Bank of America Merrill Lynch Global High Yield Index. The gains came as the central banks led by the Fed enacted polices that suppressed benchmark rates in an attempt to revive economic growth after the financial crisis, prompting investors to pile into securities with high relative yields. The junk bond market has doubled from $1 trillion in January 2010.
Losses Mount
Since June, high-yield bonds have lost 3.45 percent as investors saw little incentive to own the securities after the rally compressed the difference between yields on the debt and those on U.S. Treasuries to about record lows, according to Cribari. Yields stand at about 7 percent, up from a record low of 5.6 percent in June, according to the Bank of America index. Even with the increase, that's still below the five-year average of 7.5 percent.
Central bank efforts have failed to stimulate the economy the way policy makers had hoped, with a slowdown in inflation threating to curb spending and investment. The world economy will expand 3.5 percent in 2015, down from the 3.8 percent pace forecast in October, the IMF said in its quarterly global outlook released late Monday in Washington.
"'Maybe this asset class would not represent a high percentage of my portfolio, but I think we still can find opportunities in this market,'' Saul Sala, a money manager at Grupo Ohana in Spain, said in a telephone interview in reference to junk bonds. ''Especially in Europe,'' where the European Central Bank may inject cash into the economy through bond purchases, he said.
Stocks Favored
Sala picked developed market stocks as an area where investors should expect gains. The asset class was chosen by 24 percent of the poll respondents as their favored bet, the most among all options.
In the U.S., which makes up more than 60 percent of outstanding high-yield borrowings, the recent collapse in oil prices has led to the energy sector trading at distressed levels, with the average yield premium on company debt from that industry exceeding 10 percentage points.
If the selloff persists, the most impacted will be the U.S., ''but if it lasts for a while, it could impact other developed countries,'' Veco's Cribari said.
'Disruptive' Event
The Fed, which has kept the benchmark borrowing rate near zero since the end of 2008, has signaled it will begin lifting rates later this year. It would be appropriate for the central bank to start considering raising rates mid-year based on U.S. growth between 2.5 percent to 3 percent and inflation rising toward its goal, St. Louis Fed President James Bullard said at an event in Chicago last week.
''A disruptive credit event following a Fed turn would be at the top of my worry list,'' Anshu Jain, Deutsche Bank AG's co-chief executive officer, said Wednesday at a panel discussion at the World Economic Forum in Davos, Switzerland.
Investors, such as insurers that typically purchase investment-grade bonds, have been buying high-yield debt to boost returns, according to Chris Kenny, a fixed-income trader at MFR Securities Inc. in New York, who participated in the poll.
''That's the asset class they would like to get out of when the Fed starts raising rates," he said in a telephone interview. "That would be the first thing they'd be looking to short."
Before it's here, it's on the Bloomberg Terminal.
LEARN MORE