Itochu, Charoen Pay $10.4 Billion for Stake in Citic
Yuriy Humber and Ichiro Suzuki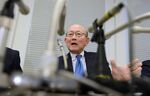 Nice timing. On the day China said it's economy is growing faster than expected, two companies from Japan and Thailand made one of their biggest bets on just that.
Charoen Pokphand Group, the first foreign investor in China after Deng Xiaoping opened the economy in 1978, and Japan's 157-year-old trading house Itochu Corp. agreed to spend $10.4 billion for a stake in state-controlled Citic Ltd.
The investment creates opportunities in China's real estate, infrastructure, environmental and new energy businesses, according to Itochu. As Asia's biggest economy shifts to more consumer-driven growth, the Japanese and Thai firms are also looking at food and fashion retail.
Charoen's billionaire owner Dhanin Chearavanont is betting that he's once again read the runes for change. The Citic deal comes just over a year after Chinese President Xi Jinping said state-owned companies will benefit from private investment, a policy that could usher in the biggest shake-up in government business strategy in three decades.
Citic Group, the state-owned investment corporation, was among the first of China's state-owned enterprises to open the door to private capital. It sold shares in its Hong Kong-based Citic Ltd. unit to 27 investors including Charoen and Itochu, and sold the subsidiary $37 billion of assets.
The timing of the investment also works for Citic, which earlier today announced an impairment of up to $1.8 billion on its Australian iron ore mine.
Buying In
Charoen and Itochu, which agreed on a $1.9 billion share swap last year, will sell their jointly held 1 percent of Citic Ltd. and then acquire 10 percent of the company from its parent for HK$34.4 billion ($4.4 billion), according to a Hong Kong exchange filing.
They will also purchase HK$45.9 billion of convertible preferred stock from Citic, which if converted would boost their stake to 20.6 percent. Itochu plans to fund the purchase entirely with debt, which should not significantly change the firm's leverage, Chief Financial Officer Tadayuki Seki said.
For Itochu, Japan's third-largest general trader whose investments include fashion branded clothes, food, logistics and mining, the deal should ease access in a market it named in 2011 as its priority area for expansion.
Despite increasing political tensions between China and Japan in the last two years, the chance to reach consumers in a market with a growing population is worth the risk -- which is minimized in this case because Citic is a state-run firm, said Itochu CEO Masahiro Okafuji at a briefing in Tokyo today.
"Nothing ventured, nothing gained," Okafuji said.
The trading house, which owns 40 percent of London-based apparel maker Paul Smith Group Holdings Ltd. and bought Dole Food Co.'s Asian fruit and vegetable business and global canned foods unit in 2013, has been the most active investor in China of Japan's major trading houses. Its former Chief Executive Officer Uichiro Niwa was appointed as Japan's ambassador to China in 2010.
'Great Gratitude'
"I'd like to show great gratitude to our predecessors, as this is an outcome of their efforts in our business in China ever since Itochu's designation as the first ever 'friendly trading house' from the Chinese government in 1972," Itochu CEO Masahiro Okafuji said today in a joint statement from the trader, Charoen, and Citic.
At the briefing, Okafuji called the deal a rare opportunity to catch-up on domestic rivals Mitsubishi Corp. and Mitsui & Co. and will give Itochu's non-commodity business expansion a big boost. It also underscores China's commitment to reforming its state sector, he said.
The Citic investment will be Itochu's biggest in China and the most a Japanese firm has directly spent on an asset in the world's most populous nation. For Charoen, the investment is the second-largest after a HK$72 billion ($9.4 billion) purchase of a minority stake in Ping An Insurance Group, the top Chinese investment by a Thai firm, according to data compiled by Bloomberg.
China Roots
The Thai group's Chearavanont family trace their roots to southern China. The patriarch Dhanin together with his brothers turned a family business into the nation's largest agricultural group, making animal feed and operating farms that produce piglets, broiler chicks, shrimp and fish.
"The deal is the great cooperation of leading companies in Asia," Dhanin said today in an e-mailed statement. "The collaboration aims at exploring investment opportunity in Asia and the rest of the world. CP will contribute to the business expansion of the partnership into agriculture, food and trading businesses."
A unit of Charoen, Chia Tai Co., started business in Shenzhen, the industrial city neighboring Hong Kong, in 1979 and has the registration number "001," according to CP Group's website.
Before it's here, it's on the Bloomberg Terminal.
LEARN MORE