It's Been a Year. Where's Obama's IRA for Everyone?
The "MyRA" (My Retirement Account) program is up and running, if just barely
By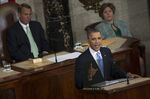 Almost a year ago, President Barack Obama outlined a modest but important program designed to encourage workers to save for retirement, especially if they don't have a 401(k)-type plan through their employer. In the 2014 State of the Union, he described the "MyRA"—rhymes with IRA, stands for My Retirement Account—an account that would use simple, safe investments and follow workers from job to job. Obama said he wanted it up and running by the end of 2014.