How the White House Picks State of the Union Guests
Welcome to American Political Idol
By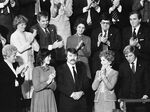 Sitting tonight with Michelle Obama at the State of the Union address will be Nicole Hernandez Hammer, who's your average American mom. From South Florida. Who's a climate scientist. And was born in Guatemala. To a Cuban father. 
She's a political trifecta. No, she's a double trifecta, in one fell swoop allowing the White House to wink at the themes of global warming, moms, relations with Cuba, immigration, Latina voters, and electoral-vote-rich Florida. Not all guests pack so many powerful (and timely) associations.
White Houses have historically excelled at finding symbols of the political moment. Ronald Reagan's team excelled in particular. In fact, that's how State of the Union special guest stars started out.
An Air Florida Boeing 737, traveling from Washington, D.C., to Fort Lauderdale, crashed into a bridge above the Potomac River on Jan. 13, 1982. The accident killed 78 people, including four people driving over the 14th Street bridge. 
Amid the devastation, a hero emerged. Lenny Skutnik was a Congressional Budget Office employee who dived into the wintry waters and saved a woman from death. 
Skutnik's bravery made him a national star and earned him a seat next to Nancy Reagan at her husband's State of the Union address two weeks later. "Every other president since then realized that this was a good thing," said presidential scholar Stephen Hess of the Brookings Institution, who, as a Harvard fellow writing a book at the time, happened to be with the secretary of transportation and watched the crash as it occurred. 
Invitations became a tradition by 1984, when Reagan invited a U.S. Army combat medic who participated in the 1983 invasion of Grenada. The practice continued under Reagan and George H.W. Bush, and really took off with Bill Clinton. 
The executive and legislative branches this year have dueling guests. Rarely, though, does a guest unify as many themes as Hammer. "From my perspective, I'm just really thankful they're addressing the issues and the communities that are most important to me," she said. "It's just an incredible honor." With the 2016 elections around the corner, neither party can proclaim enough love for South Florida, or for moms. Her Cuban ancestry allows the White House to subtly remind everyone of Obama's recent warming to Cuba. And her profession spotlights the administration's attention to climate change.
Hammer studies local effects of climate change. "Fifteen years ago, flooding wasn't as much of an issue as it is today," she said, "and that's because of sea-level rise." In 2011, she and her colleagues focused on a low-lying section of Miami Beach, to see how high tides, low elevation, and sea-level rise conspire to cause flooding even without a drop of rain. They set up at the site just before high tide on a bright Florida day, and "within 15 minutes we were standing in a foot of water," she said. "For me, that was kind of when it went from my head to my heart." She turned to advocacy, which now consumes 100 percent of her time. 
Hammer is also a field organizer for the Moms Clean Air Force, a nationwide advocacy that fights air pollution and climate change risk but that, unlike the U.S. Air Force, doesn't maintain stealth warcraft. "I'm afraid we don't have a stealth aircraft," she said. 
Notwithstanding that oversight, presidential guests may be more memorable than presidential speeches.