How Getting More Time to Shop in Malaysia May Help the Ringgit
Shamim Adam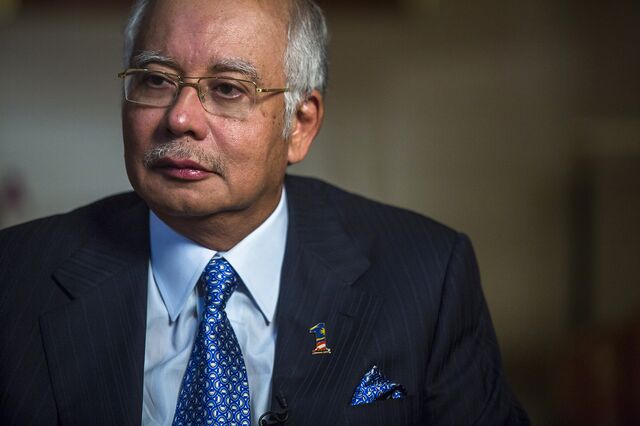 Malaysian Prime Minister Najib Razak unveiled measures that can keep more money in the country, after a slide in oil prices hurt investor confidence in the crude-producing economy and weakened its currency.
The nation's current account "must remain in surplus" and may be about 2 percent to 3 percent of gross national income in 2015, compared with an estimated 5.1 percent last year, Najib said Jan. 20 in Putrajaya, the administrative capital outside Kuala Lumpur. Slumping oil prompted the leader to cut the growth forecast for the year and predict a bigger budget deficit than initially targeted.
Najib announced several steps to help Malaysia maintain its current-account surplus, by boosting exports of goods and services as well as limiting imports, said Wellian Wiranto, a Singapore-based economist at Oversea-Chinese Banking Corp.
"At a time when market players may get increasingly antsy about the risk of potential capital outflows ahead of Fed funds rate hike, this is not a big surprise," Wiranto said in a note, referring to the U.S. Federal Reserve's anticipated interest-rate increase. "His emphasis may well be an attempt to pre-empt market concerns about the possibility that Malaysia might be experiencing double deficit on both fiscal and current-account fronts."
Here are Najib's measures that may help limit outflows, spur inflows and shore up the current account:
Keeping it local * Encouraging government-linked companies to invest domestically * Increasing local goods and services in government procurement * Intensifying promotion of "Buy Malaysia" products * Promoting "import-substitution services" such as shipping, port, education and professional services to reduce dependence on foreign providers
Boosting tourism * Waiving visa fee for tourists from China, among others * Increasing frequency and extending shopping hours of nationwide sales * Spurring more domestic tourism through competitive local air fares
Spurring exports * Helping small and medium-sized enterprises connect to new markets * Intensifying export promotion programs in 46 countries
What else could come * Pressure on the current account could remain, as Najib refrained from delaying major projects such as rail works that require imports, according to analysts at Australia & New Zealand Banking Group Ltd. and JPMorgan Chase & Co. * The government could cut or spread out investment projects to lower import demand "if it finds the current account flirting in deficit territory," according to Michael Wan, an analyst at Credit Suisse Group AG in Singapore.
Before it's here, it's on the Bloomberg Terminal.
LEARN MORE