business
Greenpeace Names Activists Behind Its Epic Fail in Peru
In a secret report to Peruvian authorities, the activist organization has provided the names of four foreign activists it says were primarily responsible for last month's vandalism at a World Heritage Site in Nazca
Mark Hertsgaard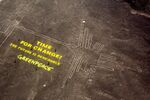 Greenpeace has provided Peruvian authorities with the identities of the four foreign activists principally responsible for vandalizing the Nazca Lines heritage site during last month's international climate negotiations in Lima, Bloomberg Businessweek has learned.  The stunt, in which activists placed yellow letters urging climate action near a hummingbird carved in soil 1,500 years ago that is a national symbol of Peru, bombed. It distracted attention from the climate talks and outraged Peru's people and government, which has called for the activists' extradition to face legal charges. The action also gave Greenpeace, one of the world's most recognized nongovernmental organizations and social brands, the worst public relations black eye in its 40-plus years of attention-grabbing protest.
"Lawyers representing Greenpeace are driving from Lima to Nazca now to deliver our report to the Peruvian prosecutor," Mike Townsley, the chief spokesman for Greenpeace International, said on Monday evening. "We have said from the start that this action was wrong, it was crass, it was insensitive, it shouldn't have happened, and we would cooperate with Peruvian authorities to set things right."
The mastermind of the Nazca Lines action was Wolfgang Sadik, a veteran campaigner with Greenpeace Germany, the Greenpeace report reveals. Two of the other three activists named in the report also work for Greenpeace Germany: Martin Kaiser, who was responsible for all of Greenpeace's actions at the Lima summit, and Iris Wiedemann, Greenpeace's chief communications officer at the summit.  The fourth individual is Mauro Fernandez, a staffer with Greenpeace Argentina who served as an interpreter during the Nazca action. Fernandez told Peruvian television on Sunday night that Sadik had not "fully informed" him regarding the sensitivity of the Nazca site or the illegality of Sadik's proposed action.
Greenpeace—whose global budget of €300 million and offices in 45 countries have long made it a force that governments and corporations must reckon with—has suffered heavy blows to its reputation, external support, and staff morale. Donors have withdrawn grants, supporters have canceled memberships, and street canvassers have been harassed, Greenpeace USA executive director Annie Leonard wrote in an e-mail earlier this month. 
"The Nazca action … has triggered heartfelt conversations about how an organization we believe in could have made such a mistake," Leonard said on Monday. "We want to do everything that we can to learn from this and make sure that something like this never ever happens again."
Sadik and his team went ahead with the action even as others in Greenpeace strongly advised him against it, Townsley confirmed. "The decisions were taken by those responsible while they were in Peru.  At that point, there was no recourse back to Greenpeace International in Amsterdam or Greenpeace Germany in Hamburg. ... Certainly there are many people [within Greenpeace] who think that our internal processes weren't followed properly and if they had been, this activity would have been caught and stopped."
Neither Kaiser, Wiedemann nor Fernandez were involved in "the design or the delivery of the Nazca Lines action," Townsley said, adding that Sadik was "the principal architect and coordinator, and he himself has volunteered that information to the prosecutor."
Greenpeace Germany declined repeated requests for an interview with Sadik, who has not spoken publicly about the action. Sadik, whose training as an archeologist was apparently the scientific basis on which Greenpeace initially defended the propriety of its actions at Nazca, has gone on medical leave to cope with depression he suffered following the widespread condemnation of the action.
The Greenpeace report, which was compiled under the leadership of Martin Prieto, executive director of Greenpeace Argentina, contains personal statements from each of the four individuals conveying their apologies for having offended the people of Peru. The statements describe each person's role in the action and provide prosecutors with their home addresses. Townsley did not say whether Greenpeace would facilitate or oppose the extradition of the four activists to Peru.
The report apparently does not name roughly 20 additional activists from seven countries who helped Sadik and his team place their message—"Time For Change! The Future is Renewable"—near the Nazca Lines, which UNESCO designated a World Heritage Site in 1994.
In previous confrontations with governments and corporations, Greenpeace has generally declined to turn over the names or persons of its activists. Part of what makes this case different, Townsley said, is the cultural sensitivity of the Nazca Lines site. An equally important consideration is whether all the activists were properly informed about the implications of the action. The theory of change embraced by Greenpeace in its civil disobedience formally calls for activists to publicly admit what they did, face whatever punishment authorities might threaten, and then use the occasion to ignite a public conversation about the morality of the deeper action being protested. That theory was not applied in this case, Townsley said, and it will take considerable effort by Greenpeace to overcome the fallout.
"I fully expect to get questions from journalists about whether we are planning an action on the Eifel tower or Arc de Triomphe in advance of the [UN climate summit in Paris in December]," said Townsley on Monday.  The group's strategy, he added, will be to "get back to doing activities with courage and integrity to protect our precious planet and show people who we are, what we stand for, and how we act.  And to let them see that the activity in Peru is atypical and not who we are."
Before it's here, it's on the Bloomberg Terminal.
LEARN MORE