Express Shares Plunge After Sycamore Ends Talks to Buy Chain
Lindsey Rupp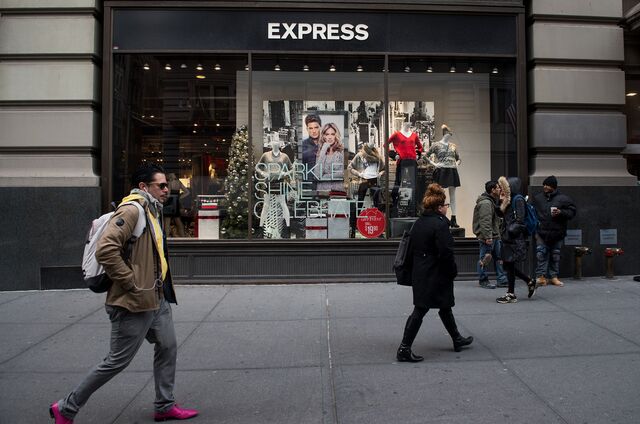 Express Inc. shares tumbled the most in more than a year after private-equity firm Sycamore Partners ended talks to acquire the apparel retailer.
The discussions, which have lasted several months, broke down after a struggle to line up financing at acceptable terms, the two companies said today in a statement. Shares of Express, a mall-based chain that targets shoppers in their 20s, fell 13 percent to $12.59 at the close in New York, for the biggest drop since December 2013.
Sycamore, which had amassed a 9.9 percent stake in Express, said in June it wanted to perform due diligence to determine a takeover price for the retailer. The buyout firm, which was started in 2011 by two executives from Golden Gate Capital, has been on the lookout for retail targets. Sycamore previously acquired a stake in Aeropostale Inc. and extended a $150 million loan to the teen retailer.
The failed Express transaction deals another blow to an industry struggling with declining mall traffic. Chains catering to younger shoppers have been hit especially hard. Wet Seal Inc., a mainstay of 1990s mall fashion, filed for bankruptcy last week after closing most of its stores. Though Express is in better shape -- and profitable -- sales and earnings have declined for four straight quarters.
Hot Topic
As part of the termination, Sycamore agreed not to contact third parties about acquiring Columbus, Ohio-based Express or disclose certain information until June 15.
Sycamore purchased Hot Topic Inc. for about $533.5 million in 2013 and was in talks to buy Billabong International Ltd. before discussions broke off. The New York-based firm, which oversees more than $3.5 billion in capital, also purchased Talbots Inc. in 2012.
Express would have been a much bigger target for Sycamore. The retailer's market value was roughly twice as high as the Hot Topic price. Express, which was previously owned by L Brands Inc., went public in 2010. L Brands sold 75 percent of its stake to Golden Gate in 2007.
Express also is preparing for a leadership change. Chief Executive Michael Weiss, who has run the company since 1980, will pass the reins to President David Kornberg this month. Kornberg will inherit a retailer trying to reduce its reliance on discounting to drive traffic even as fewer customers visit malls. The company said earlier this month that same-store sales will fall as much as 4 percent in the fourth quarter.
Before it's here, it's on the Bloomberg Terminal.
LEARN MORE