Confidence Among U.S. Homebuilders Little Changed in January
Shobhana Chandra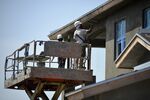 Confidence among U.S. homebuilders hovered in January close to a nine-year high, indicating the residential real estate market is poised to expand this year.
While the National Association of Home Builders/Wells Fargo builder sentiment gauge fell to 57 this month from 58 in December, readings greater than 50 mean more respondents report good market conditions, according to figures issued from the Washington-based group Tuesday. The median forecast in a Bloomberg survey called for 58.
A strengthening job market and mortgage rates near historically low levels will probably keep underpinning demand for homes in 2015. A report on Jan. 16 showed consumer confidence jumped in January to the highest level in 11 years, raising the odds more households will be looking for residences.
"Steady economic growth, rising consumer confidence and a growing labor market will help the housing market continue to move forward in 2015," David Crowe, NAHB chief economist, said in a statement.
Estimates in a Bloomberg survey of 45 economists ranged from 55 to 60. The December reading was revised up from a prior estimate of 57. The index reached a nine-year high of 59 in September.
The group's gauge of current single-family home sales held at 62 this month. The reading on prospective buyer traffic declined to 44 from 46 the prior month, while the index of the six-month sales outlook decreased to 60 from 64.
Builder confidence eased in the North, South and West. It climbed in the Midwest.
Mortgage Rates
Borrowing costs have retreated in the past month. The average 30-year, fixed-rate mortgage was 3.66 percent in the week ended Jan. 15, the lowest since May 2013, according to data from Freddie Mac in McLean, Virginia.
Gains in employment will encourage home purchases. Payrolls climbed by 252,000 workers in December after a 353,000 rise the previous month, and the jobless rate fell to 5.6 percent, the lowest since June 2008, according to Labor Department figures. About 3 million more Americans found work in 2014, the most in 15 years.
The University of Michigan preliminary consumer sentiment index rose this month to 98.2, the highest since January 2004. A measure of Americans' assessment of their personal finances and a gauge of expectations six months from now both advanced.
Wells Fargo & Co., the largest U.S. home lender, is among companies that are encouraged by the outlook for the economy.
Improving Confidence
"There have been many signs of strength in the U.S. economy," Chief Executive Officer John Stumpf said on a Jan. 14 earnings call. "I don't think this is a breakout, but I think we're on our front foot and consumers' confidence is at an all-time high since the downturn."
Some companies are less sanguine. Lennar Corp., a Miami-based builder, this month reported that profit margins are being hurt by a reduced ability to raise prices. Tight credit, especially for first-time homebuyers, is curbing demand.
"Across the board, we're seeing intensified competition as builders go out and chase volume," Lennar Chief Executive Officer Stuart Miller said on an earnings conference call.
A Commerce Department report tomorrow is projected to show housing starts increased to a 1.04 million annualized pace in December from 1.03 million the prior month, according to the median forecast in a Bloomberg survey. Permits, a sign of future construction, also climbed, economists predicted.
Before it's here, it's on the Bloomberg Terminal.
LEARN MORE