BHP Cuts U.S. Shale Rigs as Oil to Iron Ore Prices Slip
David Stringer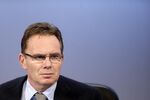 BHP Billiton Ltd., the biggest overseas investor in U.S. shale, will cut the number of its rigs there by about 40 percent as plunging petroleum prices add to concerns about lower iron ore earnings.
Drilling and development spending on U.S. onshore oil and gas fell to $1.9 billion in the six months to Dec. 31 from $2.1 billion a year ago, the Melbourne-based company said today in a statement. BHP will cut the number of active rigs to 16 from 26 by July, it said.
Brent crude, a benchmark for more than half of the world's oil, declined 48 percent last year as increasing output in the U.S. contributed to a global glut. The price of iron ore, the biggest earner at BHP, slumped 47 percent in 2014 as the largest miners raised volumes amid weaker demand from China, the largest buyer.
"Their plans to cut oil drilling rigs in the U.S. is a pointer to what's to come in the oil market," Ric Spooner, chief strategist at CMC Markets in Sydney, said today by phone. "We will eventually see a supply response to the drop in the oil price from the U.S. onshore producers."
U.S. drillers have cut the number of oil rigs in service by 209 since Dec. 5, the steepest six-week decline since Baker Hughes Inc. began tracking the data in July 1987. The count was down 55 to 1,366 in the week to Jan. 16, the data show.
Further Cuts
Investment in BHP's shale program will focus on the Black Hawk operations, though it will continue to review spending and may make additional cuts, Chief Executive Officer Andrew Mackenzie said in the statement. BHP will retain a single rig in its Haynesville gas operations, it said.
BHP rose 2.1 percent to A$28.05 at the close in Sydney, trimming the decline for the year to 4.5 percent. Australia's benchmark index rose 1.6 percent.
The world's biggest miner also flagged an after-tax impairment of as much as $350 million on its Nickel West unit in Australia after it said in November it failed to attract a suitable bid for the unit from potential buyers. It will book a charge of as much as $250 million on the sale of petroleum assets in North Louisiana and shale gas operations in the Permian basin in North America.
BHP, which is seeking savings from operations of at least $4 billion by July 2016, has set out plans to lower capital expenditure to $13 billion in fiscal 2016, down more than 40 percent from 2012.
Cutting costs in petroleum to iron ore units will "help mitigate some of the impact of lower commodity prices," Mackenzie said in the statement. "We remain alert to opportunities to further increase free cash flow."
Production Gains
While iron ore and oil prices are lower, BHP's cash flow is sufficient to cover planned increases to its dividend when it announces financial results next month, Morgan Stanley analysts led by Brendan Fitzpatrick wrote in a Jan. 20 note. "It is some years before sufficient cash would be accumulated on the balance sheet to make additional returns," the analysts wrote.
Petroleum production rose 10 percent to 63.6 million barrels of oil equivalent in the three months through December, beating a median forecast of five analysts of 61.8 million barrels. Lower spending won't curb output, BHP said, forecasting production of 255 million barrels in the year to July, from 243 million barrels a year earlier.
Iron Ore
Iron ore output rose 16 percent to 56.4 million metric tons from about 48.7 million tons a year earlier, it said. That missed the 58 million ton median estimate of three analysts surveyed by Bloomberg.
The producer received an average free on board price of $70 per wet metric ton in the six months, down 38 percent from a year earlier, it said. Ore with 62 percent content delivered to the port of Qingdao had an average price per dry metric ton of $82.63 in the same period, according to Metal Bulletin data.
Copper production fell 4 percent to 423,700 tons, missing the 442,000 ton median estimate of five analysts surveyed by Bloomberg. The metal's price tumbled 6.2 percent last week, the biggest drop since 2011, on forecasts of weaker global growth.
"It does make sense, with an eye to the longer term, to leave commodities in the ground during a time of a cyclical downturn," CMC's Spooner said.
Before it's here, it's on the Bloomberg Terminal.
LEARN MORE