Ben Carson Spent MLK Day Defending the GOP as the Party of Civil Rights
The black 2016 Republican hopeful versus liberals.
By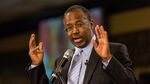 Dr. Ben Carson spent part of his weekend at the South Carolina Tea Party Coalition meeting in Myrtle Beach, where activist "Wild Bill Finley" announced that "the Tea Party is taking Martin Luther King away from the liberal left." But by Monday morning, Carson was in Washington, called on to speak to TV audiences about the state of race in America. In a morning C-SPAN interview, he told one caller it was "stupid" to suggest that it would be hard to elect a black president after Barack Obama: "Isn't he half white?"